Ad blocker interference detected!
Wikia is a free-to-use site that makes money from advertising. We have a modified experience for viewers using ad blockers

Wikia is not accessible if you've made further modifications. Remove the custom ad blocker rule(s) and the page will load as expected.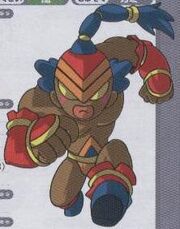 Idaten (イダテン, Idaten) is a demon in the series.
Idaten is the Japanese name of a Bodhisattva called Skanda, who is found within Mahayana Buddhism. In folklore, Skanda is a Buddhist deity who was said to have chased down speedy demons and recovered sacred relics.
Appearances
Edit
DemiKids Light & DarkEdit
"

The fastest demon alive. Quick to engage in battle, and just as quick to retreat.

"
Known as Speedy, he has the power Hyperspeed.
DemiKids Light & DarkEdit
| Class | Element | Type | Exp | Level | HP | MP |
| --- | --- | --- | --- | --- | --- | --- |
| Common | Wind | Good | 73 | 13 | 138 | 62 |

| ATK | DEF | MGC | RES | SPD | LCK |
| --- | --- | --- | --- | --- | --- |
| 12 | 12 | 11 | 11 | 15 | 10 |
List of Skills

Skill
Element
Cost
Effect
Cycloburst
Wind
10 MP
Medium dmg. 1 Foe
Tornado
Wind
23 HP
Medium dmg. Foes
Doppelganger
Dark
15 HP
SPD Up. Self
Cycloblast
Wind
20 MP
Medium dmg. Foes
Sonic Boom
Wind
23 HP
Small dmg. Foes
Speedboost
Light
6 MP
SPD Up. Party
Devil Children Fire/Ice BookEdit
| Class | Element | Type | Exp | Level | HP | MP |
| --- | --- | --- | --- | --- | --- | --- |
| Common | Wind | Good | 73 | 13 | 138 | 62 |

| ATK | DEF | MGC | RES | SPD | LCK |
| --- | --- | --- | --- | --- | --- |
| 12 | 12 | 11 | 11 | 15 | 10 |