Inaba (Persona 4)
Talk

5
3,675pages on
this wiki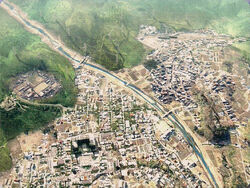 Inaba (稲羽, Inaba) is a rural town in Japan and the central area in which Persona 4 takes place. It is where Yu Narukami moves to when his parents went to work overseas, leaving him in the care of his maternal uncle. Not long after settling into Inaba, strange murders began to happen that took the usually quiet town by storm. Most of the town's younger population consider the town "boring" and in the "middle of nowhere", which is a theme of the game, although some are able to take pride in this aspect, finding it relaxing and peaceful. Inaba is surrounded by rolling hills, crops and riverbanks, and it tends to rain quite often.
According to an old man who often stands near the Tatsuhime Shrine, Inaba's history began as a coal mining town. The influx of miners was the reason why Inaba managed to develop into the kind of town it is today. It may be traveled to by train stopping at the Yasoinaba train station, preceding stations being Higashi Inaba and Hibari. The closest city to Inaba is Okina City, where the protagonist and his friends occasionally travel to.
Key Locations
Edit
The local high school where the protagonist and his newfound friends attend. Attendance is mandatory on weekday mornings, and is explorable after school.
The shopping complex whose food court is where the protagonist's investigation team assembles, calling it their "Special Headquarters." This is also where they enter the Midnight Channel, via the large TV in the Junes electronics section. Accessible during weekdays after school, and on weekend afternoons.
The street where most of Inaba's family businesses are located, but the majority of the shops are closed, due to the overwhelming success of Junes. Accessible on weekdays after school, and on weekend afternoons.
The main path to reach Yasogami High School, whose river bed is where the protagonist can fish. Accessible on weekdays after school, and on weekend afternoons and evenings.
The protagonist's temporary home in the town. When he returns here, time passes automatically to evening.
Added in Persona 4 Golden, the protagonist and his friends spend their summer vacation here. It is a location fairly far from Inaba, and can only be accessed via scooter.
References
Edit