Ad blocker interference detected!
Wikia is a free-to-use site that makes money from advertising. We have a modified experience for viewers using ad blockers

Wikia is not accessible if you've made further modifications. Remove the custom ad blocker rule(s) and the page will load as expected.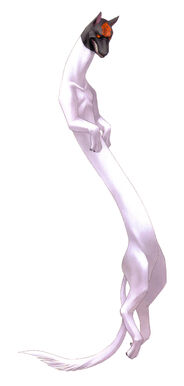 Inugami (イヌガミ, inugami)? is a demon in the series.
In Japanese mythology an inugami ("dog god") resembling, and usually originating from, a dog, (although other similar species are interpreted as being. e.g., wolves, raccoons, and weasels.) and most commonly carrying out vengeance or acting as guardians on behalf of their "inugami owner." Inugami are extremely powerful and capable of existing independently, (without master or possession) as well as turning on their "owners" and even possessing humans. Even so, while Inugami can betray their masters, they may also be the loyalest of companions.
Appearances
Edit
Shin Megami Tensei III: NocturneEdit
"

Spirits of dogs said to possess humans in Japanese folklore. Those possessed go crazy. Onmyoji, or Japanese sorcerers, summon them to do their will.

"
—Shin Megami Tensei III: Nocturne Demonic Compendium
Inugami evolves into Makami through leveling up.
Shin Megami Tensei IMAGINEEdit
"Dogs of Japanese legend who possess human bodies. When a person is possessed by an Inugami, he feels pain in his chest, hands, and feet and begins to bark like a dog. People with strong or unstable emotions are thought to be particularly susceptible to being possessed.
Inugami are said to originate from the islands of Kyushu and Shikoku. They were sometimes used as objects by Japanese diviners. Since Inugami will not leave a family once they possess it, it was once customary when arranging marriages to check whether the family had an Inugami."
—Shin Megami Tensei IMAGINE Compendium
Inugami can be contracted on Suginami field and are one of the targets of the earlier acts, where players are asked to fuse an Erthys to take advantage of their weakness. They appear regularly within Suginami Tunnels' gold instance and within Shibuya's Quartz instance, where they appear as more powerful variations. The variation in Quartz's gold-level instance will regularly use all four elemental drain area of effect buffs.
Shin Megami Tensei: Strange JourneyEdit
"

A dog spirit said to possess people in Japanese lore. Those possessed are in a state of "inu-tsuki," and lose conciousness. Onmyoji used them as familiars.

"
—Shin Megami Tensei: Strange Journey Compendium
Shin Megami Tensei IV ApocalypseEdit
Inugami can be found in the lower areas of Kanda-no-yashiro. It can teach the Fire Breath, Rakunda, Maragi and Panic Voice skills to Nanashi through its Demon Whisper. Inugami benefits from learning Fire, ailment and support skills.
Devil Summoner 2: Raidou Kuzunoha vs. King AbaddonEdit
Inugami appears as an optional boss in Dark Tsukudo-Cho, where he says he is born not of mother and father, but hatred. After his defeat he says he does not want to disappear and so asks Raidou to make him his demon. Depending on the choice he will wish to be reborn as a demon that brings happiness to others if he is allowed to die, while he joins Raidou if he wants to have him. Afterwards Astaroth appears after enjoying the fight.
Shin Megami Tensei III: NocturneEdit
Race

Level

HP

MP

| | | |
| --- | --- | --- |
| Strength | 10 | |
| Magic | 7 | |
| Vitality | 9 | |
| Agility | 6 | |
| Luck | 5 | |

Beast
13
132
60
| Reflects | Absorbs | Void | Resists | Weak |
| --- | --- | --- | --- | --- |
| - | - | Fire/Death | - | Force |
| | |
| --- | --- |
| Obtainable | Normal recruit or fusion |
List of Skills

Skill
Cost
Effect
Level
Fire Breath
9 MP
Small fire damage to random foes.
Innate
Feral Bite
12% HP
Medium physical damage to one foe. Medium accuracy and critical rate.
Innate
Media
12 MP
Moderately restores party's HP.
14
Rakunda
12 MP
Decreases defense by 1 level, all foes.
15
Fog Breath
30 MP
Decreases agility by 2 levels, all foes.
16
Panic Voice
8 MP
30% panic to all foes. Mind-type.
17
Shin Megami Tensei: Strange JourneyEdit
Race

Alignment

Level

HP

MP

| | | |
| --- | --- | --- |
| Strength | 10 | |
| Magic | 11 | |
| Vitality | 12 | |
| Agility | 15 | |
| Luck | 13 | |

Beast
Neutral-Neutral
17
163
86
| Attack Type | | | | | | | | | |
| --- | --- | --- | --- | --- | --- | --- | --- | --- | --- |
| Single foe/1/Physical/None | - | - | - | - | - | Weak | - | Null | - |
| Poison | Paralyze | Stone | Strain | Sleep | Charm | Mute | Fear | Bomb | Rage |
| --- | --- | --- | --- | --- | --- | --- | --- | --- | --- |
| 100% | 100% | 100% | 100% | 100% | 100% | Weak (300%) | 100% | 100% | 100% |
D-Source Skills
Axel Claw
Lunge
Watchful
Item Drops
Beast Seal
Life Stone
Revival Bead
Password
AZG5kMJoVuK-C0Sr
b4GnD4GqD3JjkZHt
Shin Megami Tensei IVEdit
Race

Level

HP

MP

| | | |
| --- | --- | --- |
| Strength | 31 | |
| Dexterity | 29 | |
| Magic | 29 | |
| Agility | 37 | |
| Luck | 31 | |

Beast
25
245
109
| Phys | Gun | Fire | Ice | Elec | Force | Light | Dark |
| --- | --- | --- | --- | --- | --- | --- | --- |
| - | - | Repel | - | - | Weak | Weak | Null |
| | |
| --- | --- |
| Normal Attack | Physical, one hit, one enemy |
List of Skills

Skill
Cost
Effect
Level
Fire Breath
21 MP
1 to 4 hits of weak fire damage to multiple foes.
Innate
Rakunda
15 MP
Debuffs all foes' defense by 1 level.
Innate
Panic Voice
15 MP
70% panic to all foes.
27
Shin Megami Tensei IV ApocalypseEdit
Race

Level

HP

MP

| | | |
| --- | --- | --- |
| Strength | 24 | |
| Dexterity | 24 | |
| Magic | 21 | |
| Agility | 33 | |
| Luck | 30 | |

Beast
20
193
104
| Phys | Gun | Fire | Ice | Elec | Force | Light | Dark |
| --- | --- | --- | --- | --- | --- | --- | --- |
| - | - | Resist | Weak | - | - | Weak | Resist |
| | |
| --- | --- |
| Normal Attack | Phys x1, 1 enemy |
List of Skills

Skill
Cost
Effect
Level
Fire Breath
21 MP
1 to 4 hits of weak fire damage to multiple foes.
Innate
Rakunda
25 MP
Debuffs all foes' defense by 1 level.
Innate
Maragi
12 MP
Weak fire damage to all foes.
21
Panic Voice
20 MP
70% panic to all foes.
22
Devil Summoner 2: Raidou Kuzunoha vs King AbaddonEdit
| Order | Level | HP | St | Ma | Vi | Lu | Conversation | Investigation |
| --- | --- | --- | --- | --- | --- | --- | --- | --- |
| Pagan | 5 | 132 | 9 | 4 | 7 | 4 | Patter | Read Mind |
| Reflects | Absorbs | Block | Resists | Weak | Frail |
| --- | --- | --- | --- | --- | --- |
| - | - | Death | Mind | - | Fire |
List of Skills

Skill
Cost
Effect
Level
Combo
6 MAG
Light multi-hit Phys dmg +Dizzy(Low)
Innate
Pulinpa
16 MAG
Light Mind dmg to an area +Panic(Med)
6
Dia
10 MAG
Slightly restores HP. 1 Ally
7
Halve Mind
Passive
Halves susceptibility to ailments
Max Loyalty
Persona 3Edit
| Inherit | Reflects | Absorbs | Block | Resists | Weak |
| --- | --- | --- | --- | --- | --- |
| Bad Status | - | - | - | Electricity | Darkness |
List of Skills

Skill
Cost
Effect
Level
Poisma
5 SP
Poisons 1 foe. (25% chance)
Innate
Assault Dive
9% HP
Deals light Strike damage to one foe.
Innate
Zio
4 SP
Deals light Elec damage / Shocks one foe. (10% chance)
Innate
Poison Boost
Passive
Increases odds of Poisoning a foe by 50%.
11
Media
8 SP
Slightly restores party's HP.
13
Foul Breath
15 SP
Doubles ailment susceptibility to one foe for three turns.
14
| Inherit | Reflects | Absorbs | Block | Resists | Weak |
| --- | --- | --- | --- | --- | --- |
| Bad Status | - | - | - | Electricity | Darkness |
List of Skills

Skill
Cost
Effect
Level
Poisma
5 SP
Poisons 1 foe. (25% chance)
Innate
Single Shot
8% HP
Deals light Pierce damage to one foe.
Innate
Zio
4 SP
Deals light Elec damage / Shocks one foe. (10% chance)
Innate
Poison Boost
Passive
Increases odds of Poisoning a foe by 50%.
11
Media
8 SP
Slightly restores party's HP.
13
Foul Breath
15 SP
Doubles ailment susceptibility to one foe for three turns.
14