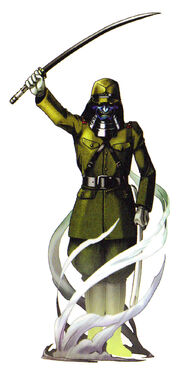 "Who is it that disturbs my slumber? Do you know that you are trifling with Inui, soldier of the Empire?"
—-Inui, Devil Summoner: Soul Hackers
Inui (イヌイ) is a demon from the Devil Summoner series.
Appearances
Edit
An undead Imperial officer that have died.
Shin Megami Tensei: Devil SummonerEdit
Inui is the ghost of a veteran who committed suicide. He is fought alongside four Platoon Soldiers in the Casa Inui apartment.
Devil Summoner: Soul HackersEdit
Inui appears at the end of Dungeon P, a section of the Extra Dungeon that heavily resembles Dungeon Q. He can only be reached if the protagonist walked over certain tiles that turn into pits afterwards.
Shin Megami Tensei: Devil SummonerEdit
| Strength | Intelligence | Magic | Endurance | Agility | Luck |
| --- | --- | --- | --- | --- | --- |
| 8 | 11 | 6 | 6 | 6 | 4 |
| Personality | Phys Attack | Phys Hit | Base Defense | Avoid | Mgc Attack | Mgc Defense |
| --- | --- | --- | --- | --- | --- | --- |
| - | 56 | 39 | 52 | 39 | 16 | 25 |
Devil Summoner: Soul HackersEdit
| Race | Level | HP | MP | CP | MAG Summon |
| --- | --- | --- | --- | --- | --- |
| Ghost | 75 | 607 | 509 | - | - |

| Strength | Intelligence | Magic | Endurance | Agility | Luck |
| --- | --- | --- | --- | --- | --- |
| 15 | 8 | 13 | 19 | 20 | 17 |
| Personality | Phys Attack | Phys Hit | Mgc Attack | Mgc Hit | Base Defense | Avoid |
| --- | --- | --- | --- | --- | --- | --- |
| - | 180 | 122 | 113 | 28 | 204 | 120 |
| Resist | Void | Absorb | Reflect | Weak |
| --- | --- | --- | --- | --- |
| All | Expel, Death, Mind, Nerve, Curse, Gun | - | - | - |