Ad blocker interference detected!
Wikia is a free-to-use site that makes money from advertising. We have a modified experience for viewers using ad blockers

Wikia is not accessible if you've made further modifications. Remove the custom ad blocker rule(s) and the page will load as expected.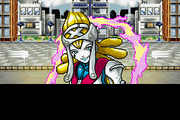 Isaac (イサク, Isaku) is a demon in the series.
Son of Abraham and a biblical partriachial figure.
Appearances
Edit
Devil Children: Ice BookEdit
Isaac appears at the beginning of Ice Book to attack Akira and kidnap the girl Amy Kashihara to fulfill the final judgement. He takes away the power of Akira's demon partner Gale that he gained from their battles in DemiKids. Later Akira would confront Isaac at Time's Edge, while Haamiru and Paku watch the battle. It is revealed afterwards however that the person he was fighting was in fact Jin.
Akira would confront the real Isaac in the Flame Apostle's castle in Muspelheim. He would mock Akira for his failures, reveal that the Flame Apostle has taken Amy somewhere else, and attempt to take Gale's power away again. After Isaac's defeat he would state that the war will begin between the power of Light & Dark. Dying with joy that they will succeed.
After beating the game Isaac can be found in Mímisbrunnr.
Devil Children Fire/Ice BookEdit
| Class | Element | Type | Exp | Level | HP | MP |
| --- | --- | --- | --- | --- | --- | --- |
| General | Light | Boss | 620 | 39 | 418 | 195 |

| ATK | DEF | MGC | RES | SPD | LCK |
| --- | --- | --- | --- | --- | --- |
| 36 | 36 | 36 | 37 | 37 | 38 |
List of Skills

Homura no mai
Tenchusatsu
Mite Burning
Mahama
Agidyne
Hikari no Sabaki