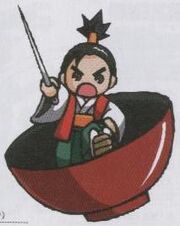 Issun-boshi (いっすんぼうし, Issunboushi) is a demon in the series.
The One-Inch Boy, sometimes translated as "The Inch-High Samurai", originates from a Japanese folktale. Born from to an elderly couple, they gave him his name after seeing how small he was. After realizing he would never grow, yet he would go on a journey and become a samurai, Issun-bōshi is given a sewing needle for a sword, a soup bowl for a boat, and chopsticks for oars for his journey.
He receives a job from the government and accompanies a princess. As they travel together they are attacked by an Oni, which Issun would defeat by attacking him from the inside after the Oni swallows him. This causes the Oni to flee and drop the Uchide mallet, which the princess uses to make Issun human size.
Appearances
Edit
DemiKids: Light & DarkEdit
"Fairy-tale warrior armed with a needle for attacking enemies' vital areas."
—DemiKids Demonary
Known as Thumurai, he has the power Fem Appeal.
Devil Children: Black/Red BookEdit
| Class | Element | Type | Exp | Level | HP | MP |
| --- | --- | --- | --- | --- | --- | --- |
| Elite | Water | Ogre | | 9 | 89 | 37 |
| ATK | DEF | MGC | RES | SPD | LCK |
| --- | --- | --- | --- | --- | --- |
| 13 | 10 | 7 | 7 | 8 | 9 |
Devil Children: White BookEdit
| Class | Element | Type | Exp | Level | HP | MP |
| --- | --- | --- | --- | --- | --- | --- |
| Elite | Water | Ogre | | 9 | 89 | 37 |
| ATK | DEF | MGC | RES | SPD | LCK |
| --- | --- | --- | --- | --- | --- |
| 13 | 10 | 7 | 7 | 8 | 9 |
Devil Children Black Book/Red Book (PS)Edit
| Class | Element | Type | Exp | Level | HP | MP |
| --- | --- | --- | --- | --- | --- | --- |
| Elite | Water | Ogre | | 9 | 89 | 37 |
| ATK | DEF | MGC | RES | SPD | LCK |
| --- | --- | --- | --- | --- | --- |
| 13 | 10 | 7 | 7 | 8 | 9 |
DemiKids: Light & DarkEdit
| Class | Element | Type | Exp | Level | HP | MP |
| --- | --- | --- | --- | --- | --- | --- |
| Elite | Water | Ogre | 62 | 12 | 124 | 58 |

| ATK | DEF | MGC | RES | SPD | LCK |
| --- | --- | --- | --- | --- | --- |
| 12 | 12 | 11 | 10 | 13 | 9 |
List of Skills

Skill
Element
Cost
Effect
Aqua
Water
5 MP
Small dmg. 1 Foe
Cure
Light
6 MP
Cure. 1 Ally
Mystic Bind
Dark
6 MP
Paralyze. 1 Foe
Lucidity
Light
6 MP
ACC Up. Party
Aquaburst
Water
10 MP
Medium dmg. 1 Foe
Anti-Demon
Light
25 HP
Critical. 1 Foe
Devil Children Fire/Ice BookEdit
| Class | Element | Type | Exp | Level | HP | MP |
| --- | --- | --- | --- | --- | --- | --- |
| Elite | Water | Ogre | 62 | 12 | 124 | 58 |

| ATK | DEF | MGC | RES | SPD | LCK |
| --- | --- | --- | --- | --- | --- |
| 12 | 12 | 11 | 10 | 13 | 9 |