Ad blocker interference detected!
Wikia is a free-to-use site that makes money from advertising. We have a modified experience for viewers using ad blockers

Wikia is not accessible if you've made further modifications. Remove the custom ad blocker rule(s) and the page will load as expected.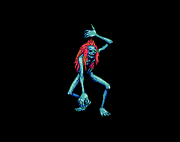 Ithaqua (イトハカ, Itohaka) is a demon in the series.
Ithaqua is a deity in Lovecraft`s Cthulhu Mythos, nevertheless he was created by August Derleth. Ithaqua is a Great Old One that appears as a horrifying humanoid giant with glowing red eyes. He apparently inhabits the Artic and the sub Artic, and is believed his sightings caused the legends of the Wendigo and the Yeti to be created. He does have not a big cult and is feared in the far north, but the ones that follow him are blessed with protection and immunity from the cold.
Appearances
Edit
Giten Megami Tensei: Tokyo MokushirokuEdit
| CP | Intuition | Will Power | Magic | Intelligence | Divine Protection |
| --- | --- | --- | --- | --- | --- |
| 64 | 39 | 37 | 42 | 28 | 30 |

| Strength | Stamina | Agility | Dexterity | Charm |
| --- | --- | --- | --- | --- |
| 56 | 52 | 47 | 21 | 51 |
List of Skills

Claw
Bufula
Bufulaon
Mahabafulaon
Death's Aspiration
Ice Breath