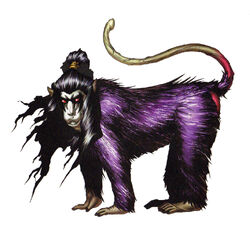 Jueyuan, also known as Kakuen (カクエン) is a recurring demon in the series.
Jueyuan (玃猿) is a murderous monkey creature from Chinese lore, they are said to reside in Western China. They can assume human shape, are good runners and will chase humans. They ambush female travelers and kidnap the beauties by their smell. Having captured a woman who will be their wife, the Jueyuan builds a home for her. Should she not bear a son she is forced to stay with her captor for good and after 10 years her shape becomes like his, with her no longer thinking of home. If she has a child, she is sent home immediately. If she refuses to have a child, she is killed. The child looks no different than an ordinary human.
Appearances
Edit
Shin Megami Tensei: Strange JourneyEdit
"

A male monkey creature in Chinese lore. They kidnap human women to leave offspring. When a woman gives birth to a child, both of them are returned to their home, but if she does not conceive, she is killed. The child born is a perfectly normal human.

"
—Shin Megami Tensei: Strange Journey compendium
Shin Megami Tensei IVEdit
Jueyuan can be found in the Shinobazu Pond area of Ueno. It can teach Flynn the Poison Claw, Agi and Posumudi skills through its Demon Whisper.
Shin Megami Tensei IV: ApocalypseEdit
Jueyuan appears in the northern areas of the Fairy Forest, past the central gate as well as in Kasumigaseki. It can teach the Poison Claw, Agilao and Posumudi skills during Demon Whisper. Jueyuan benefits more from learning Physical, Fire, support and healing skills.
Devil Summoner: Soul HackersEdit
"

A male monkey creature in Chinese lore. They kidnap human women to leave offspring. When a woman gives birth to a child, both of them are returned to their home, but if she does not conceive, she is killed. The child born is a perfectly normal human.

"
—Devil Summoner: Soul Hackers 3DS compendium
Shin Megami Tensei: Strange JourneyEdit
| Attack Type | | | | | | | | | |
| --- | --- | --- | --- | --- | --- | --- | --- | --- | --- |
| Single foe/1/Physical/None | Strong | Strong | - | - | Weak | Weak | - | - | - |
| Poison | Paralyze | Stone | Strain | Sleep | Charm | Mute | Fear | Bomb | Rage |
| --- | --- | --- | --- | --- | --- | --- | --- | --- | --- |
| 100% | 100% | 100% | 100% | 100% | 100% | 100% | 100% | 100% | 100% |
D-Source Skills
Ambush
-
-
Item Drops
Wilder Fur
Life Stone
Revival Bead
Password
X#S2#eY$XOQEqOUg

BuOEXWQ7XYP4XeQ#
Shin Megami Tensei IVEdit
Race

Level

HP

MP

| | | |
| --- | --- | --- |
| Strength | 18 | |
| Dexterity | 18 | |
| Magic | 18 | |
| Agility | 18 | |
| Luck | 18 | |

Wilder
12
154
68
| Phys | Gun | Fire | Ice | Elec | Force | Light | Dark |
| --- | --- | --- | --- | --- | --- | --- | --- |
| - | - | Null | - | - | Weak | - | - |
| | |
| --- | --- |
| Ailment Resistance | Null:Poison |
| | |
| --- | --- |
| Normal Attack | Physi x1, 1 enemy |
List of Skills

Skill
Cost
Effect
Level
Poison Claw
9 MP
Medium physical damage and 70% sick to one foe.
Innate
Agi
5 MP
Weak fire damage to one foe.
Innate
Posumudi
5 MP
Removes poison and sick from one ally.
13
Shin Megami Tensei IV ApocalypseEdit
Race

Level

HP

MP

| | | |
| --- | --- | --- |
| Strength | 34 | |
| Dexterity | 34 | |
| Magic | 29 | |
| Agility | 34 | |
| Luck | 29 | |

Wilder
26
245
113
| Phys | Gun | Fire | Ice | Elec | Force | Light | Dark |
| --- | --- | --- | --- | --- | --- | --- | --- |
| - | - | Resist | - | - | Weak | - | - |
| | |
| --- | --- |
| Ailment Resistance | Null:Poison, Weak:Sick |
| | |
| --- | --- |
| Normal Attack | Phys x1, 1 enemy |
Skill Affinities

Physical

+2

· Fire

+1

· Ailment

+1

· Healing

+1

· Support

-2

· Force

-3
List of Skills

Skill
Cost
Effect
Level
Poison Claw
9 MP
Medium physical damage and 70% poison to one foe.
Innate
Agilao
10 MP
Medium fire damage to one foe.
Innate
Posumudi
6 MP
Removes poison and sick from one ally.
27
Devil Summoner: Soul HackersEdit
| Race | Level | HP | MP | CP | MAG Summon |
| --- | --- | --- | --- | --- | --- |
| Wilder | 23 | 197 | 63 | 7 | 550 |

| Strength | Intelligence | Magic | Endurance | Agility | Luck |
| --- | --- | --- | --- | --- | --- |
| 8 | 4 | 6 | 7 | 10 | 5 |
| Personality | Phys Attack | Phys Hit | Mgc Attack | Mgc Hit | Base Defense | Avoid |
| --- | --- | --- | --- | --- | --- | --- |
| Dumb | 62 | 37 | 52 | 14 | 76 | 36 |
| Resist | Void | Absorb | Reflect | Weak |
| --- | --- | --- | --- | --- |
| Phys | - | - | - | Expel |