Ad blocker interference detected!
Wikia is a free-to-use site that makes money from advertising. We have a modified experience for viewers using ad blockers

Wikia is not accessible if you've made further modifications. Remove the custom ad blocker rule(s) and the page will load as expected.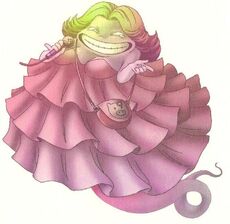 Julia (ユリア, Yuria) is a demon in the series.
Appearances
Edit
Shin Megami Tensei: Devil SummonerEdit
Julia is one of the three servants of the Orgone Ghost that must be fought at the Toa TV Station. She is the ghost of a pretentious singer who killed herself because of her obesity. A man in the Kasagiyama district says that he saw her spirit in an empty lot where a shrine once was during a Full Moon.
Shin Megami Tensei: Devil SummonerEdit
| Strength | Intelligence | Magic | Endurance | Agility | Luck |
| --- | --- | --- | --- | --- | --- |
| 13 | 7 | 16 | 8 | 12 | 9 |
| Personality | Phys Attack | Phys Hit | Base Defense | Avoid | Mgc Attack | Mgc Defense |
| --- | --- | --- | --- | --- | --- | --- |
| - | 106 | 77 | 96 | 75 | 35 | 35 |