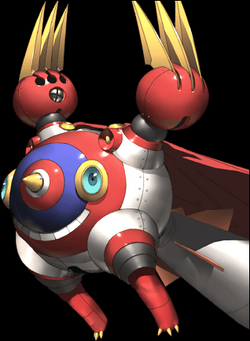 Kamui (カムイ*)? is a Persona in the series.
Appearances
Edit
Persona 4Edit
Kamui is Teddie's Ultimate Persona, obtained once the Star Arcana Social Link reaches its maximum. "Kamuy" is a term taken from Ainu mythology. They are similar to traditional Japanese gods. Additionally, "kamuy" means "bear" (as bears are considered the incarnation of powerful divine spirits in Ainu religion), making the Persona's name a pun.
This Persona may also reference the practice of Iomante, in which a captured bear-cub (believed to be an incarnation of Kimun-Kamuy, the Ainu god of bears) is first raised like a human child for one or two years, then "returned to the world of spirits" by being killed with arrows. (The missile sticking out of the Persona's body is a model called "Arrow".) This strongly mirrors Teddie's own arc, with him living as a "bear" among humans and being "raised" by them as one of their own, until he painfully remembers his true origins as a being of the TV World (A "spirit world").
Persona 4Edit
Arcana

Level

| | | |
| --- | --- | --- |
| Strength | +1 | |
| Magic | +1 | |
| Endurance | +1 | |
| Agility | +1 | |
| Luck | +1 | |

Star
Inherited
| Inherit | Reflects | Absorbs | Block | Resists | Weak |
| --- | --- | --- | --- | --- | --- |
| - | - | - | Ice | Wind, Dark | Electricity |
List of Skills

Skill
Cost
Effect
Level
Mediarama
12 SP
Moderately restores party's HP.
Innate
Bufula
8 SP
Deals medium Ice damage to 1 foe.
Innate
Energy Shower
18 SP
Cures Exhaustion and Enervation (party).
Innate
Traesto
18 SP
Instantly escape from a dungeon. (Not available during combat)
36
Mabufula
16 SP
Deals medium Ice damage to all foes.
38
Ice Boost
Passive
Strengthens Ice attacks by 25%.
40
Matarukaja
24 SP
Increases party's Attack for 3 turns.
42
Ice Break
15 SP
Nullifies 1 foe's Ice resistance (for 3 turns).
44
Diarahan
18 SP
Fully restores 1 ally's HP.
49
Bufudyne
12 SP
Deals heavy Ice damage to 1 foe.
54
Marakukaja
24 SP
Increases party's Defense for 3 turns.
58
Amrita
12 SP
Cures all ailments except Down and KO (party).
61
Samarecarm
18 SP
Revives 1 ally with full HP.
63
Mabufudyne
22 SP
Deals heavy Ice damage to all foes.
67
Mediarahan
30 SP
Fully restores party's HP.
70
Ice Amp
Passive
Strengthens Ice attacks by 50%.
72
Arcana

Level

| | | |
| --- | --- | --- |
| Strength | +1 | |
| Magic | +1 | |
| Endurance | +1 | |
| Agility | +1 | |
| Luck | +1 | |

Star
Inherited
| Inherit | Reflects | Absorbs | Block | Resists | Weak |
| --- | --- | --- | --- | --- | --- |
| N/A | - | - | Ice | Wind, Dark | Electricity |
List of Skills

Skill
Cost
Effect
Level
Mediarama
12 SP
Moderately restores party's HP.
Innate
Bufula
8 SP
Deals medium Ice damage to 1 foe.
Innate
Energy Shower
18 SP
Cures Exhaustion and Enervation (party).
Innate
Poison Skewer
9% HP
Deals light Phys damage to 1 foe with a chance of Poison.
Innate
Re Patra
3 SP
Recovers 1 ally from Knockdown or Dizzy status.
Innate
Traesto
18 SP
Instantly escape from a dungeon. (Not available during combat)
36
Mabufula
16 SP
Deals medium Ice damage to all foes.
38
Ice Boost
Passive
Strengthens Ice attacks by 25%.
40
Matarukaja
24 SP
Increases party's Attack for 3 turns.
42
Ice Break
15 SP
Nullifies 1 foe's Ice resistance (for 3 turns).
44
Diarahan
18 SP
Fully restores 1 ally's HP.
49
Bufudyne
12 SP
Deals heavy Ice damage to 1 foe.
54
Marakukaja
24 SP
Increases party's Defense for 3 turns.
58
Amrita
12 SP
Cures all ailments except Down and KO (party).
61
Gigantic Fist
16% HP
Deals heavy Phys damage to 1 foe.
63
Mabufudyne
22 SP
Deals heavy Ice damage to all foes.
67
Mediarahan
30 SP
Fully restores party's HP.
70
Ice Amp
Passive
Strengthens Ice attacks by 50%.
72
Persona Q: Shadow of the LabyrinthEdit
Arcana

Level

| | | |
| --- | --- | --- |
| Strength | 39 | |
| Magic | 48 | |
| Endurance | 25 | |
| Agility | 25 | |
| Luck | 63 | |

Star
55
| Reflects | Absorbs | Void | Resists | Weak |
| --- | --- | --- | --- | --- |
| - | - | - | Ice, Wind, Dark | Elec |
List of Skills

Skill
Cost
Effect
Level
Amrita
40 SP
Full HP restore. Remove all Binds and status ailments. (1 Ally)
Innate
Bufudyne
46 SP
A heavy Ice attack. (1 enemy)
Inherit
Mabufudyne
64 SP
A heavy Ice attack. (All enemies)
Inherit
Samarecarm
34 SP
Revive, with full HP restore. (1 ally)
Inherit
Arcana

Level

| | | |
| --- | --- | --- |
| Strength | 69 | |
| Magic | 77 | |
| Endurance | 50 | |
| Agility | 50 | |
| Luck | 90 | |

Star
99
| Reflects | Absorbs | Void | Resists | Weak |
| --- | --- | --- | --- | --- |
| - | - | - | Ice, Wind, Dark | Elec |
List of Skills

Skill
Cost
Effect
Level
Amrita
40 SP
Full HP restore. Remove all Binds and status ailments. (1 Ally)
Innate
Bufudyne
46 SP
A heavy Ice attack. (1 enemy)
Inherit
Mabufudyne
64 SP
A heavy Ice attack. (All enemies)
Inherit
Samarecarm
34 SP
Revive, with full HP restore. (1 ally)
Inherit