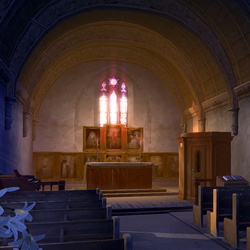 Kanda (神田*)? is a location in Persona 5.
Kanda is a district in Tokyo, Japan, encompassing around thirty neighborhoods. Churches can be found alongside shrines here. Kanda church is based on the real Kanda Catholic Church, a member of the Archdiocese of Tokyo.[1]
Appearances
Edit
Persona 5 Edit
Kanda is a movable area on the Tokyo map that can be unlocked some time after Emperor Arcana Confidant has reached rank 2 and Yusuke Kitagawa tells the other members of the Phantom Thieves of Hearts about Hifumi Togo. The only location available is the church wherein the player may recover forgotten moves of party members through the confessional booth, donate in exchange for items, or spend time with Hifumi.
References
Edit
Ad blocker interference detected!
Wikia is a free-to-use site that makes money from advertising. We have a modified experience for viewers using ad blockers

Wikia is not accessible if you've made further modifications. Remove the custom ad blocker rule(s) and the page will load as expected.