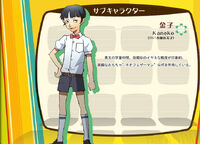 Kaneko is an anime only character in Persona 4 The Animation. He is voiced by Yumiko Kobayashi.
Appearance
Edit
Kaneko is a young boy with bowl-shaped slightly light black hair, black eyes, and buck teeth. He wears a white collar puff shirt with a red bow tie, black shorts with a brown belt, long white socks with light black lines, and black shoes.
Personality
Edit
He is a troublesome child who sometimes blames or always fights with Yuuta for things that he didn't do.
Persona 4 The AnimationEdit
On a previous weekend where Yu spent his summer vacation, his first appearance is on August 15, where he is fighting and blames Yuuta for breaking his Featherman action figure.
Ad blocker interference detected!
Wikia is a free-to-use site that makes money from advertising. We have a modified experience for viewers using ad blockers

Wikia is not accessible if you've made further modifications. Remove the custom ad blocker rule(s) and the page will load as expected.