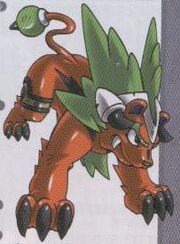 Kaos Cat, known as Chaos Sol Leon (カオスソルレオン, Kaosusorureon) in Japan, is a demon in the series.
Appearances
Edit
DemiKids Light/Dark VersionEdit
Kaos Cat can perform the combo Twin Vise with Kokatris or Shoklam.
Devil Children Messiah RiserEdit
Rand will evolve down this path if Jin picks the second choice after beating Behemoth in Tyranog.
DemiKids: Light/Dark VersionEdit
| Class | Element | Type | Exp | Level | HP | MP |
| --- | --- | --- | --- | --- | --- | --- |
| Elite | Light | Myth | 127 | 17 | 189 | 75 |

| ATK | DEF | MGC | RES | SPD | LCK |
| --- | --- | --- | --- | --- | --- |
| 20 | 16 | 14 | 15 | 16 | 11 |
List of Skills

Skill
Element
Cost
Effect
Light Howl
Light
25 HP
Small dmg. Foes
First Strike
Light
20 HP
1st Hit +Small dmg. 1 Foe
Ice Breath
Ice
23 HP
Small dmg +Freeze. 2 Foes
Powercharge
Light
15 HP
Special Boost. Self
Pyroburst
Fire
10 MP
Medium dmg. 1 Foe
Double Nova
Fire
30 HP
Hit x2. 1 Foe
Devil Children Fire/Ice BookEdit
| Class | Element | Type | Exp | Level | HP | MP |
| --- | --- | --- | --- | --- | --- | --- |
| Elite | Light | Myth | 127 | 17 | 189 | 75 |

| ATK | DEF | MGC | RES | SPD | LCK |
| --- | --- | --- | --- | --- | --- |
| 20 | 16 | 14 | 15 | 16 | 11 |
List of Skills

Light Howling
Sonic Fang
Ice Breath
Chikaratame
Agilao
Double Vice
Devil Children Messiah RiserEdit
| Number | Element | Weakness | Type | Level | HP | MP |
| --- | --- | --- | --- | --- | --- | --- |
| 89 | Light | Dark | Myth | - | 145 | 125 |
| ATK | MGC | DEF | RES | SPD | Quick | Call | Spell |
| --- | --- | --- | --- | --- | --- | --- | --- |
| 17 | 12 | 4 | 2 | 15 | 33 | - | Chaos Wave |