Ad blocker interference detected!
Wikia is a free-to-use site that makes money from advertising. We have a modified experience for viewers using ad blockers

Wikia is not accessible if you've made further modifications. Remove the custom ad blocker rule(s) and the page will load as expected.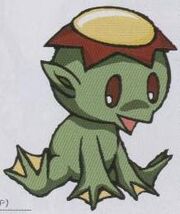 Kappa (カッパ, Kappa)? is a demon in the series.
In Japanese mythology, a Kappa is a mischievous freshwater imp or demon. If angered, it would rape the nearest woman, or do it by their own will, but if befriended, they would become the person's best friend and servant, and would stop their mischievous and unlawful ways.
Appearances
Edit
DemiKids: Light & DarkEdit
"

An excellent swimmer, this playful demon is commonly found in rivers and lakes.

"
—DemiKids Demonary
Known as Amphius, he can be found in random encounters in the bad future of Rem. After the future changes he can no longer be found.
Devil Children: Black/Red BookEdit
| Class | Element | Type | Level | HP | MP | Exp |
| --- | --- | --- | --- | --- | --- | --- |
| Common | Water | Alternate | 27 | 295 | 127 | |
| ATK | DEF | MGC | RES | SPD | LCK |
| --- | --- | --- | --- | --- | --- |
| 27 | 25 | 23 | 21 | 26 | 20 |
Devil Children Black Book/Red Book (PS)Edit
| Class | Element | Type | Level | HP | MP | Exp |
| --- | --- | --- | --- | --- | --- | --- |
| Common | Water | Alternate | 27 | 295 | 127 | |
| ATK | DEF | MGC | RES | SPD | LCK |
| --- | --- | --- | --- | --- | --- |
| 27 | 25 | 23 | 21 | 26 | 20 |
Devil Children: White BookEdit
| Class | Element | Type | Level | HP | MP | Exp |
| --- | --- | --- | --- | --- | --- | --- |
| Common | Water | Alternate | 27 | 295 | 127 | |
| ATK | DEF | MGC | RES | SPD | LCK |
| --- | --- | --- | --- | --- | --- |
| 27 | 25 | 23 | 21 | 26 | 20 |
DemiKids: Light & DarkEdit
| Class | Element | Type | Level | HP | MP | Exp |
| --- | --- | --- | --- | --- | --- | --- |
| Common | Water | Alternate | 26 | 282 | 121 | 284 |

| ATK | DEF | MGC | RES | SPD | LCK |
| --- | --- | --- | --- | --- | --- |
| 26 | 23 | 22 | 21 | 24 | 20 |
List of Skills

Skill
Element
Cost
Effect
Aquaburst
Water
10 MP
Medium dmg. 1 Foe
Venom
Dark
6 MP
Poison. 1 Foe
Pandemonium
Dark
6 MP
Confuse. 1 Foe
Aqua Flood
Water
20 HP
Small dmg. 2 Foes
Blur
Dark
5 MP
ACC Down. Foes
Tidal Wave
Water
25 HP
Small dmg. Foes
Devil Children Fire/Ice BookEdit
| Class | Element | Type | Level | HP | MP | Exp |
| --- | --- | --- | --- | --- | --- | --- |
| Common | Water | Alternate | 26 | 282 | 121 | 284 |

| ATK | DEF | MGC | RES | SPD | LCK |
| --- | --- | --- | --- | --- | --- |
| 26 | 23 | 22 | 21 | 24 | 20 |