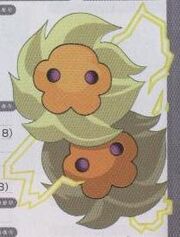 Kesaran Pasaran (ケサランパサラン?) is a demon in the series.
Kesaran Pasaran originate from a myth in Eastern Japan. It is the believed that a flock from a weed that is round in shape and has the texture of a blowball, is inhabited by a spirit of good fortune that grows in size when you feed it face powder. Parents give them to their daughters as a lucky charm.
Appearances
Edit
DemiKids Light/Dark VersionEdit
Known as Kesra, it has the power Linguist, which improves persuasiveness with demons who can't be understood.
DemiKids Light/Dark VersionEdit
| Class | Element | Type | Exp | Level | HP | MP |
| --- | --- | --- | --- | --- | --- | --- |
| Elite | Wind | Alternate | 46 | 10 | 107 | 51 |

| ATK | DEF | MGC | RES | SPD | LCK |
| --- | --- | --- | --- | --- | --- |
| 10 | 11 | 15 | 12 | 9 | 6 |
List of Skills

Skill
Element
Cost
Effect
Cyclone
Wind
5 MP
Small dmg. 1 Foe
Rage Melody
Water
18 HP
Small dmg +Confuse. Foes
Spellboost
Light
6 MP
MGC Up. Party
Heal All
Light
12 MP
Minor HP recovery. Party
Powercharge
Light
15 HP
Special Boost. Self
Sonic Boom
Wind
23 HP
Small dmg. Foes
Devil Children Fire/Ice BookEdit
| Class | Element | Type | Exp | Level | HP | MP |
| --- | --- | --- | --- | --- | --- | --- |
| Elite | Wind | Alternate | 46 | 10 | 107 | 51 |

| ATK | DEF | MGC | RES | SPD | LCK |
| --- | --- | --- | --- | --- | --- |
| 10 | 11 | 15 | 12 | 9 | 6 |