Ad blocker interference detected!
Wikia is a free-to-use site that makes money from advertising. We have a modified experience for viewers using ad blockers

Wikia is not accessible if you've made further modifications. Remove the custom ad blocker rule(s) and the page will load as expected.
"Key Plus Words" is the second opening song of Persona 4 The Animation, replacing Sky's the Limit since episode 13. It was also the opening of episode 8 of Persona 4 The Golden Animation. It is performed by Shiroko Hirata feat. Yumi Kawamura and composed by Shoji Meguro, with lyrics by Lotus Juice.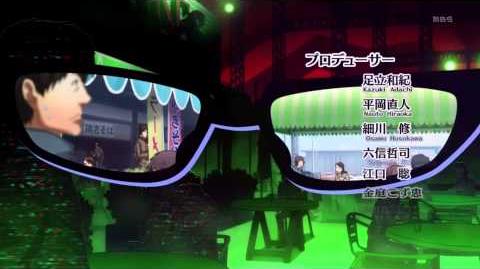 Hide and seek, it wants to play again
Like a detective, I won't let it get away
It's constantly costuming with loads of fake
I will strip-search if I have to
No 'm not afraid to know it (no no no)
I am so determined to chase after what's hidden
And seize this day, this moment
(Wanna know) Enter key to accelerate
(Wanna go) Ignition turned on
It's about the time to drive to the truth

(Wanna seize) Stranger than in movies
(Wanna see) Ignorance is not bliss
They say that truth will out, can't keep on hiding
There's no turning back now
I'm gonna go on, I'm gonna go get what I want
Mist is covering my peripheral
But my determination is mind blowing
It's so blatant, I won't be a bit timid
It can trick you and there won't be any treat
No, I'm not afraid to find out (no no no)
So eager, so hungry to see out secret
Can you conceal it when I am after you
(Wanna know) Enter words to activate
(Wanna go) One more piece to go
It's about that time to fill it in
(Wanna seize) Stranger than in novels
(Wanna see) Ignorance is not bliss
They say that truth will out, can't keep on running
There's no turning back now
I'm gonna go on, I'm gonna go get what I need
I wanna know
Even it may hurt, even it brings pain within
My mind's determined, I need to know
Even it may kill, even it may change me
Ready to face truth
(Wanna know) Enter key to accelerate
(Wanna go) Ignition turned on
It's 'bout that time to drive to truth
(Wanna seize) Stranger than in movies
(Wanna see) Ignorance is not bliss
They say that truth will out
I'm gonna go on and gonna keep it on
(Wanna know) Enter words to activate
(Wanna go) One more piece to go
It's about that time to fill it in
(Wanna seize) Stranger than in novels
(Wanna see) Ignorance is not bliss
They say that truth will out
Can't keep on running, there's no turning back now
I'm gonna go on, I'm gonna go get what I need