Ad blocker interference detected!
Wikia is a free-to-use site that makes money from advertising. We have a modified experience for viewers using ad blockers

Wikia is not accessible if you've made further modifications. Remove the custom ad blocker rule(s) and the page will load as expected.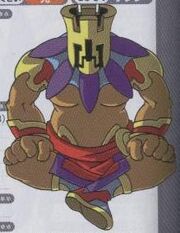 Khshathra (クシャスラ, Kushasura)? is a demon in the series.
Khshathra vairya, is one of the seven Amensha Spentas, who is the personification of "desirable dominion", and is associated with metal. He is the protector of the poor even though he would rather defend royalty, and enforces peace by using his weapons. His attributes are the helmet, the shield and the spear. The sixth month is dedicated to him, along with his eternal opponent being the archdemon Saurva.
Appearances
Edit
DemiKids: Light & DarkEdit
Known as Muslexx in the game.
| Race | Level | HP | MP | Mv Range | Mv Type | Atk Range | Arcana |
| --- | --- | --- | --- | --- | --- | --- | --- |
| - | 30 | 420 | 200 | 5 | Ground | 2-3 | Metal Rain |
| St | Ma | In | Ag | Lu | Atk | P.Def | M.Def |
| --- | --- | --- | --- | --- | --- | --- | --- |
| 14 | 11 | 11 | 12 | 10 | 164 | 87 | 51 |
| | | | |
| --- | --- | --- | --- |
| Equipment | Weapons, Armor | Item | - |
| Slash | Strike | Ranged | Fire | Ice | Elec | Light | Dark | Almighty |
| --- | --- | --- | --- | --- | --- | --- | --- | --- |
| B | - | B | B | B | B | B | S | S |
DemiKids: Light & DarkEdit
| Class | Element | Type | Level | HP | MP | Exp |
| --- | --- | --- | --- | --- | --- | --- |
| Common | Light | Holy | 36 | 381 | 160 | 539 |

| ATK | DEF | MGC | RES | SPD | LCK |
| --- | --- | --- | --- | --- | --- |
| 35 | 32 | 31 | 30 | 38 | 30 |
List of Skills

Skill
Element
Cost
Effect
Holy Mute
Light
18 HP
Small dmg +Mute. 2 Foes
Powercharge
Light
15 HP
Special Boost. Self
Aquablast
Water
20 MP
Medium dmg. Foes
Venom Foam
Water
20 HP
Small dmg +Confuse. 1 Foe
Summon
Light
8 HP
Summon +Exchange. 1 Foe
Polarlok
Ice
15 MP
Large dmg +Freeze. 1 Foe
Devil Children Fire/Ice BookEdit
| Class | Element | Type | Level | HP | MP | Exp |
| --- | --- | --- | --- | --- | --- | --- |
| Common | Light | Holy | 36 | 381 | 160 | 539 |

| ATK | DEF | MGC | RES | SPD | LCK |
| --- | --- | --- | --- | --- | --- |
| 35 | 32 | 31 | 30 | 38 | 30 |
List of Skills

Holy Shot
Chikaratame
Maha Aques
Doku no awa
Call Out
Bufudyne