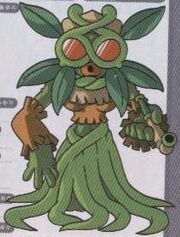 Kibra, known as Caipora (カイポラ, Kaipora) in Japan, is a demon in the series.
A forest spirit from Brazilian Folklore, described as a dark-skinned Indian with a short stature and a very long black mane.It is always naked, and runs across the wild riding a great peccary.The Caipora protects the animals from hunters who do not respect the rules of fair-play when hunting, making them lose their way in the jungle.
Appearances
Edit
DemiKids Light/Dark VersionEdit
In Dark Version she appears before Akira after defeating Tupon and tells him that she will aid him sometime in the future. She appears later in the park in Rem when Akira speaks to a young girl who wants to grow a tree. Kibra allows Akira to decide if she should plant the seed. When it's planted Future Rem is drastically changed from a wasteland of metal to a flourishing forest, where humans are surviving. Kibra stands in front of the now fully grown tree and tells Akira to go meet Lucifer for the powers of Dark. After beating the game she can remove the seedling in the park to change it back to the original Future Rem.
In Light Version Jin can encounter her in a sidequest, where she resides in the Wind shrine found in Wind Dem. Kibra asks him to defeat the demon who seeks to burn the forest. After Redcap's defeat, Kibra joins the party in gratitude for him saving nature.
DemiKids Light/Dark VersionEdit
| Class | Element | Type | Exp | Level | HP | MP |
| --- | --- | --- | --- | --- | --- | --- |
| King | Wind | Boss | 612 | 38 | 404 | 179 |

| ATK | DEF | MGC | RES | SPD | LCK |
| --- | --- | --- | --- | --- | --- |
| 32 | 34 | 38 | 37 | 34 | 39 |
List of Skills

Skill
Element
Cost
Effect
Cycloburst
Wind
10 MP
Medium dmg. 1 Foe
Hex Bind
Dark
35 MP
Hit +Paralyze. 1 Foe
Cyclodeus
Wind
8 MP
Small dmg. 2 Foes
Resurrect
Light
25 MP
Revive +Max HP. 1 Ally
Healmor
Light
10 MP
Minor HP recovery. 1 Ally
Mystic Bind
Dark
6 MP
Paralyze. 1 Foe
Devil Children Fire/Ice BookEdit
| Class | Element | Type | Exp | Level | HP | MP |
| --- | --- | --- | --- | --- | --- | --- |
| King | Wind | Boss | 612 | 38 | 404 | 179 |

| ATK | DEF | MGC | RES | SPD | LCK |
| --- | --- | --- | --- | --- | --- |
| 32 | 34 | 38 | 37 | 34 | 39 |