Ad blocker interference detected!
Wikia is a free-to-use site that makes money from advertising. We have a modified experience for viewers using ad blockers

Wikia is not accessible if you've made further modifications. Remove the custom ad blocker rule(s) and the page will load as expected.
Kimi no Tonari by Hitomi is the ending theme song for Persona 2: Innocent Sin. The song was released in the album thermo plastic in October 13, 1999, and reached the top 2 of Oricon. Although the song was not included in the PSX soundtrack, several in-game tracks are re-arrangements of its theme and credited to hitomi, they are "Mt. Katatsumuri", "Main Theme A", "Main Theme B" and both city map themes arranged by Toshiko Tasaki, Masaki Kurokawa, and Kenichi Tsuchiya.
In the remake of the game, the song is called "By Your Side" and is slightly shorter than the original, while adding an instrumental version of it as well.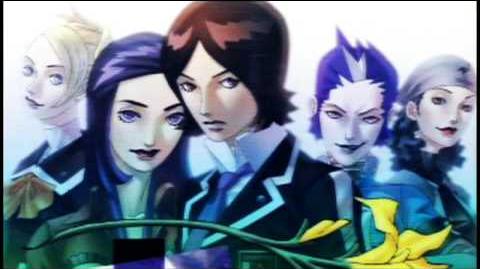 (***)
Kikoeteru uta ga kokoro wo yurugasete
kokoro ga kezurarete
Hadaka no mama no jibun ga genkaku kanjite
kokoro wo kayowasete
Itsumo onaka wo sukasete hitori de aruku shoujo
Hito to onaji shunkan ni warau no ga KIRAI dakara
Ai-tte kotoba ga naku naranai you ni
Maiorita maiorita tenshi
(**)
Imasugu ni waratte agemashou
imasugu ni utatte agemashou
Shoujo kara otona ni naru sono shunkan ni
Tomoshibi tozasanu you ni
Susanda kawa de yumemiru minikui AHIRU no ko
Kitto sugao motomete kokoro no kamen hazushite
Itsu shika shiroi tsubasa ni tsunagaru you ni
Hikari hanachi furisosogu hoshi ni
(*)
Imasugu ni waratte agemashou
imasugu ni utatte agemashou
Eien ni hikari kagayaku yume mitsume
Aruite yukeru you ni
Ai wa hora koko ni aru kono chibusa de hane iyashi
Shoujo wa mata arukidasu hateshinaku tsuzuku michi e
repeat (*)
repeat (**)
repeat (***)
Note: this is an unofficial translation
(***)
The song I can hear makes my heart shake
My heart is scraped away
While I am naked I feel the illusion
It passes through my heart
A girl who is always hungry walks alone
Because she hates to smile at the same second as others
In order to not lose the word 'love'
An angel slowly fluttered down
(**)
Soon I'll smile for you
Soon I'll sing for you
In that moment when a girl becomes a woman
To keep the light from going out
In the wild river there is a dreaming ugly duckling
Surely it desires a true face as it removes the mask of its heart
All of a sudden as if it were given white wings
The light is released from a falling star
(*)
Soon I'll smile for you
Soon I'll sing for you
Gazing at a dream that shines forever
So that I can keep walking and living
Look, love is right here
Winged intention in my chest
The girl will walk again
To a road that never ends
repeat (*)
repeat (**)
repeat (***)