Ad blocker interference detected!
Wikia is a free-to-use site that makes money from advertising. We have a modified experience for viewers using ad blockers

Wikia is not accessible if you've made further modifications. Remove the custom ad blocker rule(s) and the page will load as expected.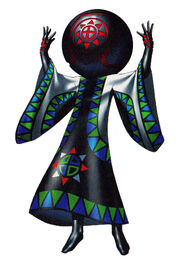 "

I Kinmamon. That is from far away I come. You are, from far away? Then, both of us? That's that. Then we battle.

"
—Kinmamon, Shin Megami Tensei: Strange Journey
Kinmamon (キンマモン?) is a recurring demon in the series.
Also known as "the God from Beyond the Sea, Marebito," it is an enigmatic god from Japanese lore. It is related to Amaterasu, which is implied from the few known sources of Kinmamon. Kinmamon is an enigmatic and mysterious deity of Ryuku shinto, which is practiced on the Ryuku islands. Its connections with sea travel and suggestion that it brought life to the Ryukyu Islands imply that it was a deity introduced from across the sea. Kinmamon's name means "The True One" which is believed to be a title for shrine maidens, leading to the belief that Kinmamon is the deity of shrine maidens.
Appearances
Edit
Shin Megami Tensei: Strange JourneyEdit
"

The highest god of Ryukyu Shinto. He comes from the eternal kingdom of Nirai Kanai and has protected the Ryukyu Islands. There is a Yin and a Yang side to this deity; the one that came from the sky is Kiraikanaino Kinmamon, and the one that came from the sea is Ohokakerakuno Kinmamon. He is also a god who brings gifts of wisdom, and appears before people through women.

"
—Shin Megami Tensei: Strange Journey Compendium
Devil Summoner: Soul HackersEdit
"

The highest god of Ryukyu Shinto. He hails from the eternal kingdom of Nirai Kanai and has protected the Ryukyu Islands. There is a Yin and a Yang duality to this deity. The one that came from the sky is Kiraikanaino Kinmamon, and the one that came from the sea is Ohokakerakuno Kinmamon. He is also a god who brings gifts of wisdom, and appears before people through women.

"
—Devil Summoner: Soul Hackers 3DS Compendium
Shin Megami Tensei: Strange JourneyEdit
Race

Alignment

Level

HP

MP

| | | |
| --- | --- | --- |
| Strength | 33 | |
| Magic | 42 | |
| Vitality | 37 | |
| Agility | 40 | |
| Luck | 42 | |

Enigma
Light-Neutral
58
495
279
| Attack Type | | | | | | | | | |
| --- | --- | --- | --- | --- | --- | --- | --- | --- | --- |
| Single Foe/1/Physical/None | - | - | Null | - | - | - | Null | Null | - |
| Poison | Paralyze | Stone | Strain | Sleep | Charm | Mute | Fear | Bomb | Rage |
| --- | --- | --- | --- | --- | --- | --- | --- | --- | --- |
| - | - | - | - | - | - | - | - | - | - |
D-Source Skills
Megidola
Void Mind
Mana Gain
Password
fwq9#-UPhAODhOSa
+TOu49QjkAsjxQr9
Shin Megami Tensei IVEdit
Race

Level

HP

MP

| | | |
| --- | --- | --- |
| Strength | 57 | |
| Dexterity | 63 | |
| Magic | 82 | |
| Agility | 54 | |
| Luck | 76 | |

Enigma
60
329
319
| Phys | Gun | Fire | Ice | Elec | Force | Light | Dark |
| --- | --- | --- | --- | --- | --- | --- | --- |
| - | - | Null | Weak | - | - | Null | Null |
| | |
| --- | --- |
| Normal Attack | Phys, One Hit, One Enemy |
List of Skills

Skill
Cost
Effect
Level
Mediarama
22 MP
Restores medium amount of HP to all allies.
Innate
Null Mind
Auto
Immunity against sleep and panic.
Innate
Megidola
40 MP
Medium almighty damage to all foes.
61
Shin Megami Tensei IV ApocalypseEdit
Race

Level

HP

MP

| | | |
| --- | --- | --- |
| Strength | 41 | |
| Dexterity | 51 | |
| Magic | 73 | |
| Agility | 91 | |
| Luck | 79 | |

Enigma
60
603
220
| Phys | Gun | Fire | Ice | Elec | Force | Light | Dark |
| --- | --- | --- | --- | --- | --- | --- | --- |
| - | - | Null | Weak | - | - | Resist | Resist |
| | |
| --- | --- |
| Normal Attack | Phys x1, 1 enemy |
List of Skills

Skill
Cost
Effect
Level
Mediarama
48 MP
Restores medium amount of HP to all allies.
Innate
Megido
25 MP
Weak almighty damage to all foes.
Innate
Megidola
45 MP
Medium almighty damage to all foes.
61
Devil Summoner: Soul HackersEdit
| Race | Level | HP | MP | St | In | Ma | En | Ag | Lu |
| --- | --- | --- | --- | --- | --- | --- | --- | --- | --- |
| Enigma | 42 | 429 | 212 | 9 | 12 | 20 | 11 | 10 | 9 |

| CP | MAG Summon | Personality | P.ATK | P.HIT | B.DEF | AVD | M.ATK | M.HIT |
| --- | --- | --- | --- | --- | --- | --- | --- | --- |
| 9 | 667 | Calm | 102 | 68 | 122 | 67 | 173 | 44 |
| Reflects | Absorbs | Void | Resists | Weak |
| --- | --- | --- | --- | --- |
| - | - | Expel, Death | All | - |