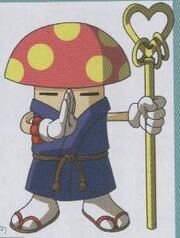 Kinoko Houshi (キノコほうし, Kinokohoushi) is a demon in the series.
Meaning "Mushroom Monk", it is most likely a reference to Nyogen-Senzaki. Nyogen-Senzaki spread the teachings of Zen Buddhism to the United States during the 20th century. He loved to compare himself to a "homeless mushroom". Nyogen died in 1958.
Appearances
Edit
Devil Children White BookEdit
Found in Koritsushita Yasaka.
Devil Children White BookEdit
| Class | Element | Type | Exp | Level | HP | MP |
| --- | --- | --- | --- | --- | --- | --- |
| Common | Dark | Ogre | 353 | 29 | 306 | 138 |
| ATK | DEF | MGC | RES | SPD | LCK |
| --- | --- | --- | --- | --- | --- |
| 24 | 25 | 26 | 25 | 26 | 22 |