Ad blocker interference detected!
Wikia is a free-to-use site that makes money from advertising. We have a modified experience for viewers using ad blockers

Wikia is not accessible if you've made further modifications. Remove the custom ad blocker rule(s) and the page will load as expected.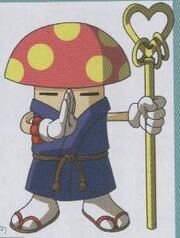 Kinoko Houshi (キノコほうし, Kinokohoushi) is a demon in the series.
Meaning "Mushroom Monk", it is most likely a reference to Nyogen-Senzaki. Nyogen-Senzaki spread the teachings of Zen Buddhism to the United States during the 20th century. He loved to compare himself to a "homeless mushroom". Nyogen died in 1958.
Appearances
Edit
Devil Children White BookEdit
Found in Koritsushita Yasaka.
Devil Children White BookEdit
| Class | Element | Type | Exp | Level | HP | MP |
| --- | --- | --- | --- | --- | --- | --- |
| Common | Dark | Ogre | 353 | 29 | 306 | 138 |
| ATK | DEF | MGC | RES | SPD | LCK |
| --- | --- | --- | --- | --- | --- |
| 24 | 25 | 26 | 25 | 26 | 22 |