Ad blocker interference detected!
Wikia is a free-to-use site that makes money from advertising. We have a modified experience for viewers using ad blockers

Wikia is not accessible if you've made further modifications. Remove the custom ad blocker rule(s) and the page will load as expected.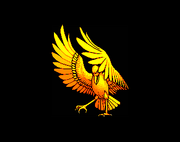 Kinshichou (キンシチョウ, Kinshichou)? is a demon in the series.
Kinshichou (金翅鳥) is a Buddhist mythical beast. There are also instances of it being referred to as Konshichou, Karura, and Myoushichou. When using the term kinshichou in particular, most cases use it to refer to the race Garuda belongs to. After its introduction to Japan, it is often shown as a Karasu Tengu.
Appearances
Edit
Giten Megami Tensei: Tokyo MokushirokuEdit
| Race | Alignment | Level | HP | MP | CP |
| --- | --- | --- | --- | --- | --- |
| Avian | Light-Law | 8 | 141 | 117 | 25 |

| Intuition | Will Power | Magic | Intelligence | Divine Protection |
| --- | --- | --- | --- | --- |
| 18 | 18 | 23 | 16 | 16 |

| Strength | Stamina | Agility | Dexterity | Charm |
| --- | --- | --- | --- | --- |
| 25 | 28 | 26 | 14 | 22 |