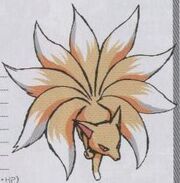 Kitsune (キツネ*)?, also known as Okitsune (オキツネ*)? and Kyūbi no Kitsune (キュウビのキツネ or 9ビノキツネ*)?, is a demon in the series.
The foxes (kitsune or o-kitsune) are very prominent in the Japanese folklore and mythology. They were thought to be a type of shapeshifting youkai that was quite intelligent and sometimes a trickster. There are several type of kitsune but mostly they are divided into two groups, the Zenko, which were benevolent and associated with the god Inari, and the Yako, which were malicious and mischievous. When a kitsune becomes old and powerful enough they become able to take human form. It was also thought that for each 100 years a kitsune lived it grew an additional tail; when gained the ninth one and became a kyuubi no kitsune its fur would turn golden or white and it would gain omniscient-like powers.
The kyuubi no kitsune (literally 'the nine-tailed fox') is a powerful youkai (Japanese word for spiritual and otherwise supernatural creatures in folklore) commonly seen in Japan, China, and Korea.
Records of the nine-tailed fox can be seen first in China (狐狸精). It is a benevolent, if not outright divine creature, and anyone who can encounter one and live to tell the tale is destined to become a lord or even the emperor. In Korea these creatures wish to become human, often by stealing the life force of human males by transforming into a woman and seducing them. Common folklore depicts them as more violent creatures that actively prey on male human livers and corpses. In Japan, however, nine-tailed foxes are often depicted as evil and massively powerful entities, their power nearly equaling that of deities.
Appearances
Edit
Devil Children Red/Black BookEdit
Kyūbi no Kitsune can be obtained by rank fusing Kudagitsune six times.
Devil Children White BookEdit
Also appears as Iron Kitsune (テツキツネ, Tetsukitsune), a kitsune whose body is made of iron, which can be bought for 20,000 coins.
Megami Tensei IIEdit
| Stamina | Intelligence | Attack | Agility | Luck | Defense |
| --- | --- | --- | --- | --- | --- |
| 18 | 17 | 13 | 11 | 11 | 10 |
Swd
Gun
Fir
Ice
Elc
Exp
For
Bnd
Crs
Nrv
Mnd

6

/

8
-
-
-
-

3

/

8
-
-

6

/

8
-
-
Kyūyaku Megami TenseiEdit
Megami Tensei IIEdit
| Race | Level | HP | MP | VIT | INT | STR | SPD | LUC | DEF |
| --- | --- | --- | --- | --- | --- | --- | --- | --- | --- |
| Beast | 45 | 410 | 62 | 18 | 17 | 13 | 11 | 10 | 11 |
Swd
Gun
Fir
Ice
Elc
Exp
For
Bnd
Crs
Nrv
Mnd

6

/

8
-
-
-
-

3

/

8
-
-

6

/

8
-
-
List of Spells

Skill
Cost
Effect
Marin Karin
6 MP
Inflicts Happy/Panic (2-3 enemies, Mind-type)
Mediama
6 MP
Medium HP recovery (all allies)
Makajam
3 MP
Inflicts Close (all enemies)
Giten Megami Tensei: Tokyo MokushirokuEdit
| Race | Alignment | Level | HP | MP | CP |
| --- | --- | --- | --- | --- | --- |
| Beast | Neutral-Neutral | 8 | 81 | 40 | 14 |

| Intuition | Will Power | Magic | Intelligence | Divine Protection |
| --- | --- | --- | --- | --- |
| 13 | 7 | 8 | 5 | 9 |

| Strength | Stamina | Agility | Dexterity | Charm |
| --- | --- | --- | --- | --- |
| 17 | 15 | 14 | 3 | 6 |
Devil Children Red/Black BookEdit
Devil Children (PS)Edit
Devil Children White BookEdit