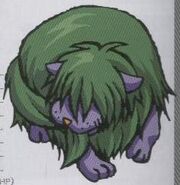 Konton (コントン, Konton) is a demon in the series.
In Chinese mythology, the Konton or Hundun (混沌) was an entity of chaos that predated the world. It is sometimes described as a divine dog. Konton is known as one of the Si-xiong (4 Calamities) in ancient Chinese lore along with Tao Tie, Taown and Qiong Qi, said to be a large beast with six legs and four wings, with no organs to perceive the five senses, yet has innate and a large knowledge of dance and music. Likewise, it represents Chaos, attacking those who are good of heart and serve those of evil, having no sense of wrong or right.
Appearances
Edit
DemiKids: Light & DarkEdit
"Dog demon that bites down on its own tail to make itself go into a frenzy during battle."
—DemiKids Demonary
Konton has the power Electro LV1, which stores electric power to occasionally shock an enemy.
Devil Children: Black/Red BookEdit
| Class | Element | Type | Exp | Level | HP | MP |
| --- | --- | --- | --- | --- | --- | --- |
| Elite | Thunder | Fiend | 633 | 40 | 413 | 194 |
| ATK | DEF | MGC | RES | SPD | LCK |
| --- | --- | --- | --- | --- | --- |
| 37 | 34 | 35 | 35 | 36 | 34 |
Devil Children Black Book/Red Book (PS)Edit
| Class | Element | Type | Exp | Level | HP | MP |
| --- | --- | --- | --- | --- | --- | --- |
| Elite | Thunder | Fiend | 633 | 40 | 413 | 194 |
| ATK | DEF | MGC | RES | SPD | LCK |
| --- | --- | --- | --- | --- | --- |
| 37 | 34 | 35 | 35 | 36 | 34 |
Devil Children: White BookEdit
| Class | Element | Type | Exp | Level | HP | MP |
| --- | --- | --- | --- | --- | --- | --- |
| Elite | Thunder | Fiend | 633 | 40 | 413 | 194 |
| ATK | DEF | MGC | RES | SPD | LCK |
| --- | --- | --- | --- | --- | --- |
| 37 | 34 | 35 | 35 | 36 | 34 |
DemiKids: Light & DarkEdit
| Class | Element | Type | Exp | Level | HP | MP |
| --- | --- | --- | --- | --- | --- | --- |
| Elite | Thunder | Fiend | 795 | 43 | 452 | 205 |

| ATK | DEF | MGC | RES | SPD | LCK |
| --- | --- | --- | --- | --- | --- |
| 40 | 38 | 36 | 34 | 37 | 35 |
List of Skills

Skill
Element
Cost
Effect
Shockblast
Thunder
20 MP
Medium dmg. Foes
Chomp
Dark
10 HP
No DEF Medium dmg. 1 Foe
Pandemonium
Dark
6 MP
Confuse. 1 Foe
Defboost
Light
6 MP
DEF Up. Party
Purge
Light
8 MP
Null -Stat. Party
Shocklok
Thunder
15 MP
Large dmg +Shock. 1 Foe
Devil Children Fire/Ice BookEdit
| Class | Element | Type | Exp | Level | HP | MP |
| --- | --- | --- | --- | --- | --- | --- |
| Elite | Thunder | Fiend | 795 | 43 | 452 | 205 |

| ATK | DEF | MGC | RES | SPD | LCK |
| --- | --- | --- | --- | --- | --- |
| 40 | 38 | 36 | 34 | 37 | 35 |