Ad blocker interference detected!
Wikia is a free-to-use site that makes money from advertising. We have a modified experience for viewers using ad blockers

Wikia is not accessible if you've made further modifications. Remove the custom ad blocker rule(s) and the page will load as expected.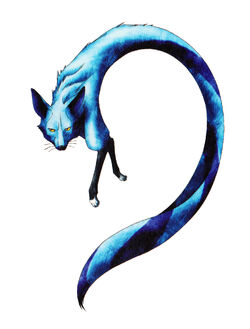 "

Oh a human! I found a human! Woooow, i can´t believe a human would be in a place like this. Hey, hey... let´s play! We can play the human-killing game!

"
—Kuda, Shin Megami Tensei: Strange Journey
Kuda (クダ), also known as Kudagitsune (クダギツネ), is a demon in the series.
A type of creature that possess humans (usually young women) who are then called Kitsunetsukai. A Kuda is also called a "pipe-fox."
Appearances
Edit
Shin Megami Tensei: Strange JourneyEdit
"

A fox used by people known as "Kuda-users." They are beasts that possess humans. Those possessed do not eat much, but start eating raw miso. Kuda are passed on from master to student.

"
—Shin Megami Tensei: Strange Journey Compendium
Kuda can be found in Sector Carina with the enemy search app.
Shin Megami Tensei IV ApocalypseEdit
Kuda can be found in the Shinjuku West Entrance Park. It can teach the Sukukaja, Tetanus Cut, Blight and Mabufula skills through its Demon Whisper. Kuda benefits from learning Ice skills.
Shin Megami Tensei: Strange JourneyEdit
| Level | Race | Alignment | HP | MP | ST | MA | AG | VI | LC |
| --- | --- | --- | --- | --- | --- | --- | --- | --- | --- |
| 28 | UMA | Neutral-Neutral | 250 | 153 | 17 | 28 | 16 | 19 | 19 |
| Attack Type | | | | | | | | | |
| --- | --- | --- | --- | --- | --- | --- | --- | --- | --- |
| Single Foe/1/Physical/None | - | - | - | - | Null | Weak | - | - | - |
| Poison | Paralyze | Stone | Strain | Sleep | Charm | Mute | Fear | Bomb | Rage |
| --- | --- | --- | --- | --- | --- | --- | --- | --- | --- |
| 100% | 100% | 100% | 100% | 100% | 100% | 100% | 100% | 100% | 100% |
D-Source Skills
Ziodyne
Mana Gain
-
Item Drops
UMA Muzzle
Dis-Mute
Mazio Stone
Password
U70Bugbb0s#wBJ0g

QwjhQw#v4-vWQsij
Shin Megami Tensei IVEdit
| Race | Level | HP | MP | ST | DX | MA | AG | LU |
| --- | --- | --- | --- | --- | --- | --- | --- | --- |
| Food | 28 | 266 | 118 | 34 | 31 | 31 | 41 | 34 |
| Phys | Gun | Fire | Ice | Elec | Force | Light | Dark |
| --- | --- | --- | --- | --- | --- | --- | --- |
| - | Weak | - | Repel | - | Weak | - | - |
Shin Megami Tensei IV ApocalypseEdit
Race

Level

HP

MP

| | | |
| --- | --- | --- |
| Strength | 30 | |
| Dexterity | 30 | |
| Magic | 26 | |
| Agility | 42 | |
| Luck | 38 | |

Food
27
240
128
| Phys | Gun | Fire | Ice | Elec | Force | Light | Dark |
| --- | --- | --- | --- | --- | --- | --- | --- |
| - | Weak | - | Resist | - | Weak | - | - |
| | |
| --- | --- |
| Normal Attack | Phys x1, 1 enemy |
List of Skills

Skill
Cost
Effect
Level
Sukukaja
20 MP
Buffs party's agility by 1 level.
Innate
Tetanus Cut
11 MP
Medium physical damage and 70% sick to one foe.
Innate
Blight
18 MP
Weak physical damage and 60% poison to all foes.
28
Mabufula
24 MP
Medium ice damage to all foes.
30
Devil Summoner: Soul HackersEdit
| Race | Level | HP | MP | CP | MAG Summon |
| --- | --- | --- | --- | --- | --- |
| UMA | 20 | 154 | 12 | 4 | 318 |

| Strength | Intelligence | Magic | Endurance | Agility | Luck |
| --- | --- | --- | --- | --- | --- |
| 3 | 14 | 15 | 3 | 3 | 3 |
| Personality | Phys Attack | Phys Hit | Mgc Attack | Mgc Hit | Base Defense | Avoid |
| --- | --- | --- | --- | --- | --- | --- |
| Calm | 46 | 31 | 139 | 42 | 62 | 31 |
| Resist | Void | Absorb | Reflect | Weak |
| --- | --- | --- | --- | --- |
| - | - | - | Expel, Death | - |
Giten Megami TenseiEdit
| CP | Intuition | Will Power | Magic | Intelligence | Divine Protection |
| --- | --- | --- | --- | --- | --- |
| 11 | 12 | 6 | 7 | 4 | 8 |

| Strength | Stamina | Agility | Dexterity | Charm |
| --- | --- | --- | --- | --- |
| 15 | 13 | 13 | 3 | 5 |
Devil Children: Black/Red BookEdit
| Class | Element | Type | Exp | Level | HP | MP |
| --- | --- | --- | --- | --- | --- | --- |
| Elite | Fire | Fiend | 128 | 17 | 176 | 69 |
| ATK | DEF | MGC | RES | SPD | LCK |
| --- | --- | --- | --- | --- | --- |
| 16 | 17 | 15 | 15 | 13 | 13 |
Devil Children Black Book/Red Book (PS)Edit
| Class | Element | Type | Exp | Level | HP | MP |
| --- | --- | --- | --- | --- | --- | --- |
| Elite | Fire | Fiend | 128 | 17 | 176 | 69 |
| ATK | DEF | MGC | RES | SPD | LCK |
| --- | --- | --- | --- | --- | --- |
| 16 | 17 | 15 | 15 | 13 | 13 |
Devil Children White BookEdit
| Class | Element | Type | Exp | Level | HP | MP |
| --- | --- | --- | --- | --- | --- | --- |
| Elite | Fire | Fiend | 128 | 17 | 176 | 69 |
| ATK | DEF | MGC | RES | SPD | LCK |
| --- | --- | --- | --- | --- | --- |
| 16 | 17 | 15 | 15 | 13 | 13 |