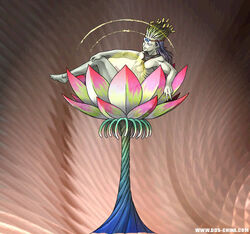 Kokunochi (ククノチ) is a demon in the series.
The kami of trees, called "spirit of trees" (kodama) in Engishiki. According to Kojiki, Kukunochi was born after Izanagi and Izanami finished giving birth to the land (see kuniumi). Nihongi likewise states that Kukunochi was born after Izanagi and Izanami had given birth to the various other kami of the sea, rivers and mountains. In his Kojikiden, Motoori Norinaga interpreted kuku to mean "stalk," and chi as a male honorific. Together with Toyoukehime, this kami is referred to as one of the yafunegami ("kami of houses"), and continues to be worshiped today on the occasion of roof raising ceremonies and the blessing of new houses.
Appearances
Edit
Shin Megami Tensei IV ApocalypseEdit
Kukunochi can teach Nanashi the Tetrakarn, Makakaja and Energy Drain skills through his Demon Whisper. He benefits from learning support and Gun skills.
Devil Summoner: Soul HackersEdit
"The god of trees in Japanese lore. Also pronounced Kugunochi.
Along with Toyouke-Hime, Kukunochi was a guardian of houses and is worshiped in house-raising events."
—Soul Hackers 3DS Compendium
Shin Megami Tensei: Strange JourneyEdit
| Attack Type | | | | | | | | | |
| --- | --- | --- | --- | --- | --- | --- | --- | --- | --- |
| Single Foe/1/Physical/None | - | Strong | Weak | - | Strong | - | Strong | Strong | - |
| Poison | Paralyze | Stone | Strain | Sleep | Charm | Mute | Fear | Bomb | Rage |
| --- | --- | --- | --- | --- | --- | --- | --- | --- | --- |
| 100% | 100% | 100% | 100% | 100% | 100% | 100% | 100% | 100% | 100% |
D-Source Skills
Diarahan
Bomdi
Void Elec
Password
WesniTcDB6EniR58

%wqje4oniN7nDh8S
Shin Megami Tensei IVEdit
| Race | Level | HP | MP | ST | DX | MA | AG | LU |
| --- | --- | --- | --- | --- | --- | --- | --- | --- |
| Tree | 44 | 254 | 246 | 43 | 48 | 62 | 41 | 58 |
| Phys | Gun | Fire | Ice | Elec | Force | Light | Dark |
| --- | --- | --- | --- | --- | --- | --- | --- |
| - | Drain | Weak | - | - | - | Resist | - |
Shin Megami Tensei IV ApocalypseEdit
Race

Level

HP

MP

| | | |
| --- | --- | --- |
| Strength | 35 | |
| Dexterity | 42 | |
| Magic | 69 | |
| Agility | 51 | |
| Luck | 68 | |

Tree
44
347
297
| Phys | Gun | Fire | Ice | Elec | Force | Light | Dark |
| --- | --- | --- | --- | --- | --- | --- | --- |
| - | Null | Weak | - | - | - | Resist | - |
| | |
| --- | --- |
| Ailment Resistance | Null:Panic |
| | |
| --- | --- |
| Normal Attack | Phys x1, 1 enemy |
List of Skills

Skill
Cost
Effect
Level
Tetrakarn
50 MP
Bestows physical/gun-repelling shields for one turn to all allies.
Innate
Makakaja
20 MP
Buffs party's magic attack power by 1 level.
Innate
Energy Drain
7 MP
Drains small amount of HP and MP from one foe.
45
Shin Megami Tensei: Devil SummonerEdit
| Race | Level | HP | MP | CP | NOA |
| --- | --- | --- | --- | --- | --- |
| Tree | 42 | 245 | 191 | 49 | 0-2 |

| Strength | Intelligence | Magic | Endurance | Agility | Luck |
| --- | --- | --- | --- | --- | --- |
| 12 | 11 | 15 | 9 | 9 | 9 |
| Personality | Phys Attack | Phys Hit | Base Defense | Avoid | Mgc Attack | Mgc Defense |
| --- | --- | --- | --- | --- | --- | --- |
| Cowardly | 108 | 77 | 102 | 76 | 35 | 39 |
Devil Summoner: Soul HackersEdit
| Race | Level | HP | MP | CP | MAG Summon |
| --- | --- | --- | --- | --- | --- |
| Tree | 48 | 372 | 160 | 5 | 378 |

| Strength | Intelligence | Magic | Endurance | Agility | Luck |
| --- | --- | --- | --- | --- | --- |
| 13 | 12 | 16 | 9 | 9 | 10 |
| Personality | Phys Attack | Phys Hit | Mgc Attack | Mgc Hit | Base Defense | Avoid |
| --- | --- | --- | --- | --- | --- | --- |
| Calm | 122 | 78 | 142 | 40 | 130 | 77 |
| Resist | Void | Absorb | Reflect | Weak |
| --- | --- | --- | --- | --- |
| - | Expel, Death | - | - | Fire |