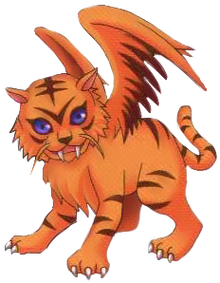 Kyuuki (キュウキ, Kyuuki)? is a demon in the series.
In Chinese lore, the Qiongqi is a winged cross between a tiger and an ox. They are ferocious monsters. Known as a member of the Si-xiong (4 Calamities) in ancient Chinese lore along with Tao Tie, Hun Dun and Taown, they are representative of Depravity, born to give man no peace while attacking and assaulting those of honest and noble heart, while rewarding those of opposing and debased value.
Appearances
Edit
DemiKids: Light & DarkEdit
"Winged tiger-demon that appears from out of the sky to swoop down on its enemies."
Known as Kyuki, he can perform the combo Dragon Surge with Urboros.
Devil Children Messiah RiserEdit
Kyuuki is a general of the Imperium forces that have taken over Fire Makai and is faced as a boss in the Light Temple. He resides in a part of the temple with ground that collapses, making it hard to reach him if entire path collapses.
Last Bible IIIEdit
| Level | HP | MP | Attack | Defense |
| --- | --- | --- | --- | --- |
| 28 | 260 | 144 | 101 | 36 |

| Strength | Endurance | Intelligence | Speed | Luck |
| --- | --- | --- | --- | --- |
| 16 | 12 | 11 | 23 | 13 |
Devil Children Black/Red BookEdit
| Class | Element | Type | Exp | Level | HP | MP |
| --- | --- | --- | --- | --- | --- | --- |
| King | Fire | Ghost | | 48 | 518 | 215 |
| ATK | DEF | MGC | RES | SPD | LCK |
| --- | --- | --- | --- | --- | --- |
| 47 | 43 | 44 | 44 | 45 | 43 |
Devil Children Black Book/Red Book (PS)Edit
| Class | Element | Type | Exp | Level | HP | MP |
| --- | --- | --- | --- | --- | --- | --- |
| King | Fire | Ghost | | 48 | 518 | 215 |
| ATK | DEF | MGC | RES | SPD | LCK |
| --- | --- | --- | --- | --- | --- |
| 47 | 43 | 44 | 44 | 45 | 43 |
Devil Children White BookEdit
| Class | Element | Type | Exp | Level | HP | MP |
| --- | --- | --- | --- | --- | --- | --- |
| King | Fire | Ghost | | 48 | 518 | 215 |
| ATK | DEF | MGC | RES | SPD | LCK |
| --- | --- | --- | --- | --- | --- |
| 47 | 43 | 44 | 44 | 45 | 43 |
DemiKids Light & DarkEdit
| Class | Element | Type | Exp | Level | HP | MP |
| --- | --- | --- | --- | --- | --- | --- |
| King | Fire | Ghost | 881 | 46 | 494 | 220 |

| ATK | DEF | MGC | RES | SPD | LCK |
| --- | --- | --- | --- | --- | --- |
| 46 | 43 | 40 | 40 | 42 | 40 |
List of Skills

Skill
Element
Cost
Effect
Pyrolok
Fire
15 MP
Large dmg. 1 Foe
Pyro Bomb
Fire
20 HP
Medium dmg +Bomb. 2 foes
Powerboost
Light
6 MP
ATK Up. Party
Healmax All
Light
30 MP
Max HP recovery. Party
TNT
Dark
6 MP
Bomb. 1 Foe
Revive
Light
18 MP
Revive. 1 Ally
Devil Children Fire/Ice BookEdit
| Class | Element | Type | Exp | Level | HP | MP |
| --- | --- | --- | --- | --- | --- | --- |
| King | Fire | Ghost | 881 | 46 | 494 | 220 |

| ATK | DEF | MGC | RES | SPD | LCK |
| --- | --- | --- | --- | --- | --- |
| 46 | 43 | 40 | 40 | 42 | 40 |
Devil Children Messiah RiserEdit
| Number | Element | Weakness | Type | Level | HP | MP |
| --- | --- | --- | --- | --- | --- | --- |
| 64 | Fire | Water | Ghost | 27 | 245 | 220 |
| ATK | MGC | DEF | RES | SPD | Quick | Call | Spell |
| --- | --- | --- | --- | --- | --- | --- | --- |
| 22 | 22 | 11 | 11 | 12 | 33 | 23 | Maragion |