Ad blocker interference detected!
Wikia is a free-to-use site that makes money from advertising. We have a modified experience for viewers using ad blockers

Wikia is not accessible if you've made further modifications. Remove the custom ad blocker rule(s) and the page will load as expected.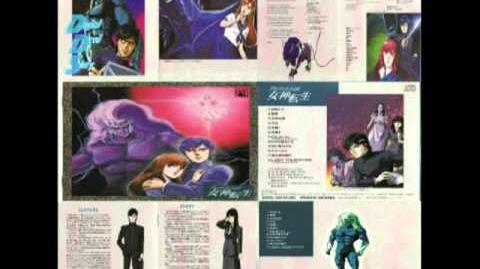 LADY YOUR EYES is the main theme of the original video animation adaptation, Digital Devil Story: Megami Tensei. The composition and song are by YOURI with the CASH.
時は全てを今 越えて行く
愛にそっと口づけを
いつか二人で見た 同じ夢
君をどこかへ連れ去る
ビルの谷間揺れる 蜃気楼
細い肩をまどわす
さりげない言葉で幸せを
いつの間にか傷つけ
今 目の前に「君の涙が…」
この手でぬぐえたら 迷わない
Lady Lady Lady your eyes Tu~
泣かないで これ以上
Lady Lady Lady your eyes Tu~
見つめてよ 優しい瞳で
今 目の前に君がいたなら
その手をつなぎとめ 離さない
Lady Lady Lady your eyes Tu~
泣かないで これ以上
Lady Lady Lady your eyes Tu~
見つめてよ 優しい瞳で
Toki wa subete wo ima koeteyuku
Ai ni sotto kuchizuke wo
Itsuka futari de mita onaji yume
Kimi wo doko e tsuresaru
Biru no taniai yureru shinkirou
Hosoi kata wo madowasu
Sarigenai kotoba de shiawase wo
Itsu no aida ni ka kizutsuke
Ima me no mae ni "Kimi no namida ga..."
Kono te de nuguetara mayowanai
Lady Lady Lady your eyes Tu~
Nakanaide kore ijyou
Lady Lady Lady your eyes Tu~
Mitsumete yo yasashi hitomi de
Ima me no mae ni kimi ga itanara
Sono te wo tsunagitome hanasanai
Lady Lady Lady your eyes Tu~
Nakanaide kore ijyou
Lady Lady Lady your eyes Tu~
Mitsumete yo yasashi hitomi de