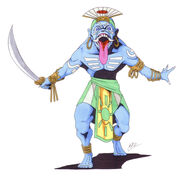 Lakhe (ラケー?) is a demon in the series.
Lakhe (also known as Majipa Lakhe), is a flesh-eating demon in Hindu, Buddhist, and Nepali mythology. Its myth tells the story of several spirits invading an area called Majipa (in Basantapur, Kathmandu), one of the creatures falls in love with a girl and starts visiting her in the disguise of a human. One day he is caught and is sworn to never again eat human flesh and protection for the children of Majipa in exchange to be able to live with the girl.
Appearances
Edit
Shin Megami TenseiEdit

"Origin: Nepal. A man-eating demon from Newar folklore. It usually lives in the mountains, but periodically runs through villages. As it does so, it kidnaps anyone who happens to be outside at the time."
—Shin Megami Tensei A-Mode DDS Dictionary
Megami Tensei IIEdit
| Stamina | Intelligence | Attack | Agility | Luck | Defense |
| --- | --- | --- | --- | --- | --- |
| 13 | 12 | 10 | 12 | 9 | 21 |
Kyūyaku Megami TenseiEdit
Megami TenseiEdit
| Race | Level | HP | MP | VIT | INT | STR | SPD | LUC | DEF |
| --- | --- | --- | --- | --- | --- | --- | --- | --- | --- |
| Jirae | 32 | 181 | - | 11 | 10 | 12 | 12 | 10 | 16 |
Megami Tensei IIEdit
| Race | Level | HP | MP | VIT | INT | STR | SPD | LUC | DEF |
| --- | --- | --- | --- | --- | --- | --- | --- | --- | --- |
| Element | 32 | 212 | 44 | 13 | 12 | 10 | 12 | 9 | 21 |
List of Spells

Skill
Cost
Effect
Sabbatma
10 MP
Summon an ally without using Macca
Mudoon
6 MP
Medium chance of instant death (1 enemy)
Mazioma
6 MP
Medium Elec damage (all enemies)
Shin Megami TenseiEdit
| CP | NOA | ATK | ACC | DEF | EVA | M.ATK | M.EFC |
| --- | --- | --- | --- | --- | --- | --- | --- |
| 20 | ? | 81 | 25 | 36 | 21 | 8 | 8 |

| | | |
| --- | --- | --- |
| St | 20 | |
| In | 7 | |
| Ma | 7 | |
| Vi | 11 | |
| Ag | 20 | |
| Lu | 6 | |
| | | | |
| --- | --- | --- | --- |
| Resistances | Weak to Guns and Elec | Drop | Emerald |
List of Skills

Skill
Cost
Effect
Zanma
5 MP
Blasts one enemy with a strong gale.
Feral Bite
Extra
Bites one enemy. (Charge-type)
Berserk
Extra
Damages one group of enemies. (Charge-type)
Last BibleEdit
| Level | HP | MP | NOA | DEF | STR | INT | END | SPD | LUC |
| --- | --- | --- | --- | --- | --- | --- | --- | --- | --- |
| 43 | 362 | 108 | 1 | | 19 | 19 | 19 | 17 | 17 |
List of Skills

Skill
Cost
Effect
Impact 3
14 MP
Heavy Force damage to all enemies
Impact 2
8 MP
Force damage to a group of enemies
Heal 3
25 MP
Large HP recovery for one character
Last Bible IIIEdit
| Level | HP | MP | ATK | DEF | STR | INT | END | SPD | LUC |
| --- | --- | --- | --- | --- | --- | --- | --- | --- | --- |
| 35 | 403 | 172 | 95 | 58 | 19 | 14 | 16 | 14 | 11 |

| | | | |
| --- | --- | --- | --- |
| Equipment | Arm, Armor, Shield | Card Location | Battle |
Giten Megami Tensei: Tokyo MokushirokuEdit
| Race | Alignment | Level | HP | MP | CP |
| --- | --- | --- | --- | --- | --- |
| Jaki | Dark-Law | 20 | 308 | 91 | 30 |

| Intuition | Will Power | Magic | Intelligence | Divine Protection |
| --- | --- | --- | --- | --- |
| 15 | 16 | 12 | 9 | 14 |

| Strength | Stamina | Agility | Dexterity | Charm |
| --- | --- | --- | --- | --- |
| 31 | 28 | 14 | 12 | 7 |