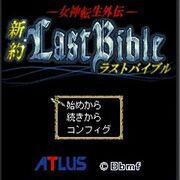 Megami Tensei Gaiden: Last Bible New Testament (女神転生外伝 新約ラストバイブル?) is an RPG developed by Atlus and Bbmf for mobile phones.
Releases
Japan: September 10, 2007 (iAppli)
Japan: January 16, 2008 (S!Appli)
Japan: January 17, 2008 (EZAppli)
Profile
New Testament is set in a world where monsters and humans live together. Every one-hundred years, a hero called the Gaia Master is called upon to defeat the demon lord. The spelling of Gaia Master is slightly different in this game than it was in the original.
Characters
Rui (ルイ): The protagonist and a young boy who takes things at his own pace.
Alice (アリス): An ordinary girl who joins the party, she is a tsundere with twin-tails. Unlike the protagonist, she cannot equip a shield, but her final attack power is greater than his.
Liesel (リゼル): The irresolute and disinherited son of a great shinto priest. His strength is in magic-focus.
Gallery
Ad blocker interference detected!
Wikia is a free-to-use site that makes money from advertising. We have a modified experience for viewers using ad blockers

Wikia is not accessible if you've made further modifications. Remove the custom ad blocker rule(s) and the page will load as expected.