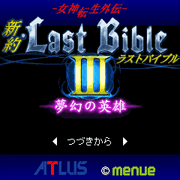 Megami Tensei Gaiden: Last Bible New Testament III: Mugen no Eiyuu (女神転生外伝 新約ラストバイブルIII 夢幻の英雄?) is an RPG developed by Atlus and menue for mobile phones.
Japan: September 17, 2010 (iAppli)
Japan: October 27, 2010 (EZAppli)
Mugen no Eiyuu functions similarly to the previous two New Testament games, which improved negotiation and fusion mechanics. It is set on the planet Damir and focuses on the children from the previous game.
Ad blocker interference detected!
Wikia is a free-to-use site that makes money from advertising. We have a modified experience for viewers using ad blockers

Wikia is not accessible if you've made further modifications. Remove the custom ad blocker rule(s) and the page will load as expected.