Ad blocker interference detected!
Wikia is a free-to-use site that makes money from advertising. We have a modified experience for viewers using ad blockers

Wikia is not accessible if you've made further modifications. Remove the custom ad blocker rule(s) and the page will load as expected.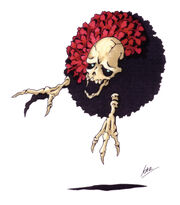 Lemur or Lemures (レムレース?, or レムルース?) is a demon in the series.
Evil spirits in ancient Roman mythology. They represented vengeful spirits that didn`t have an appropriate burial in life. Lemures were formless and liminal, associated with darkness and its dread. In Republican and Imperial Rome, May 9, 11, and 13 were dedicated to their placation in the household practices of Lemuria. The head of household would rise at midnight and cast black beans behind him with averted gaze; the Lemures were presumed to feast on them.
Larvae (singular larva=mask) and Lemures are believed to have the same common etymological origin as both are described as wandering and vengeful spirits that terrorize the living. Carl Linnaeus described the Lemures as being similar to the larva stage of insects.
Appearances
Edit
Last Bible, as Hangman in Revelations: The Demon Slayer
Shin Megami TenseiEdit
"

Origin: Italy. Lemures are Italian ancestor spirits. When the dead are no longer respected, they appear at night and cause harm to humans.

"
—Shin Megami Tensei A-Mode DDS Dictionary
Megami Tensei IIEdit
| Stamina | Intelligence | Attack | Agility | Luck | Defense |
| --- | --- | --- | --- | --- | --- |
| 6 | 11 | 5 | 7 | 2 | 7 |
Kyūyaku Megami TenseiEdit
Megami Tensei IIEdit
| Race | Level | HP | MP | VIT | INT | STR | SPD | LUC | DEF |
| --- | --- | --- | --- | --- | --- | --- | --- | --- | --- |
| Night | 12 | 39 | 23 | 6 | 11 | 5 | 7 | 7 | 2 |
List of Spells

Skill
Cost
Effect
Death Touch
Extra
Drain enemy HP
Shibaboo
2 MP
Inflicts Bind (1-2 enemies, Bind-type)
Shin Megami TenseiEdit
| CP | NOA | ATK | ACC | DEF | EVA | M.ATK | M.EFC |
| --- | --- | --- | --- | --- | --- | --- | --- |
| 7 | 1 | 27 | 10 | 22 | 9 | 14 | 8 |

| | | |
| --- | --- | --- |
| St | 8 | |
| In | 6 | |
| Ma | 13 | |
| Vi | 10 | |
| Ag | 8 | |
| Lu | 2 | |
| | | | |
| --- | --- | --- | --- |
| Resistances | Weak to Fire and Expel, resists Guns and Nerve | Drop | Dis-Stun |
List of Skills

Skill
Cost
Effect
Zan
2 MP
Blasts one enemy with a gale.
Sukunda
2 MP
Reduces the enemies' hit rate.
Makajama
4 MP
Seals the magic of multiple enemies. (Magic-type)
Last BibleEdit
| Level | HP | MP | NOA | DEF | STR | INT | END | SPD | LUC |
| --- | --- | --- | --- | --- | --- | --- | --- | --- | --- |
| 29 | 207 | 83 | 1 | | 11 | 19 | 11 | 13 | 13 |
List of Skills

Skill
Cost
Effect
Curse 1
12 MP
Instantly kills a group of enemies
Sleep 2
8 MP
Put all enemies to sleep
Last Bible IIIEdit
| Level | HP | MP | ATK | DEF | STR | INT | END | SPD | LUC |
| --- | --- | --- | --- | --- | --- | --- | --- | --- | --- |
| 12 | 91 | 51 | 32 | 24 | 10 | 10 | 11 | 11 | 9 |

| | | | |
| --- | --- | --- | --- |
| Equipment | Weapons | Card Location | Police Force Headquarters |
Giten Megami Tensei: Tokyo MokushirokuEdit
| Race | Alignment | Level | HP | MP | CP |
| --- | --- | --- | --- | --- | --- |
| Spirit | Dark-Neutral | 12 | 101 | 90 | 19 |

| Intuition | Will Power | Magic | Intelligence | Divine Protection |
| --- | --- | --- | --- | --- |
| 10 | 14 | 15 | 10 | 7 |

| Strength | Stamina | Agility | Dexterity | Charm |
| --- | --- | --- | --- | --- |
| 8 | 12 | 14 | 9 | 12 |