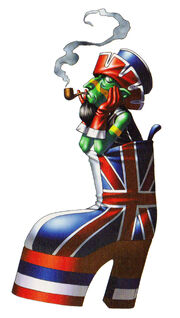 Leprechaun (レプラコーン or レプラホーン, Repurakōn or Repurahōn)? is a demon in the series.
A leprechaun is a type of fairy in Irish folklore, usually taking the form of an old man, clad in a red or green coat, who enjoys partaking in mischief. Like other fairy creatures, leprechauns have been linked to the Tuatha Dé Danann of Irish mythology. Popular depiction shows them as being no taller than a small child.
Appearances
Edit
Devil Summoner: Soul HackersEdit
"A fairy of Irish descent, pictured as an old man wearing a red hat. He repairs the shoes of other fairies when they wear out their soles while dancing. He also knows the location of treasures. Legend has it that a man caught a leprechaun, only for it to disappear before he realized what he had."
—Soul Hackers 3DS Compendium
DemiKids Light & DarkEdit
Known as Leprak, he can perform the combo Earth Hammer with Irontaur.
Devil Summoner: Soul HackersEdit
| Race | Level | HP | MP | St | In | Ma | En | Ag | Lu |
| --- | --- | --- | --- | --- | --- | --- | --- | --- | --- |
| Fairy | 33 | 268 | 109 | 9 | 9 | 10 | 8 | 7 | 7 |

| CP | MAG Summon | Personality | P.ATK | P.HIT | B.DEF | AVD | M.ATK | M.HIT |
| --- | --- | --- | --- | --- | --- | --- | --- | --- |
| 7 | 524 | Dumb | 84 | 53 | 98 | 52 | 90 | 28 |
| Reflects | Absorbs | Void | Resists | Weak |
| --- | --- | --- | --- | --- |
| Force | - | Expel | - | - |
Giten Megami TenseiEdit
| Race | Alignment | Level | HP | MP | CP |
| --- | --- | --- | --- | --- | --- |
| Fairy | Neutral-Neutral | 5 | 28 | 52 | 9 |

| Intuition | Will Power | Magic | Intelligence | Divine Protection |
| --- | --- | --- | --- | --- |
| 8 | 6 | 12 | 7 | 6 |

| Strength | Stamina | Agility | Dexterity | Charm |
| --- | --- | --- | --- | --- |
| 7 | 5 | 15 | 7 | 18 |
Megami Ibunroku PersonaEdit
| Order | Type | Subtype | Level | HP | SP | Drops |
| --- | --- | --- | --- | --- | --- | --- |
| Jirae | Element | Earth | 11 | 110 | 110 | Mamagna Stone |

MAtk
MDef

| | | |
| --- | --- | --- |
| Strength | 24 | |
| Vitality | 11 | |
| Dexterity | 8 | |
| Agility | 4 | |
| Luck | 16 | |

38
15
1h
2h
Sp
Ax
Wp
Th
Ar
Fs
HG
MG
SG
Ri
Te
Ru
-
-
-
2×
-
-
-
-
-
-
1.5×
-
1.5×
-
Fi
Ic
Wi
Er
El
Nc
Bl
Gr
Ex
Mi
De
Cu
Nr
???
-
-
2×
Dr
Nu
-
2×
-
-
-
-
-
-

2

/

4
List of Skills

Skill
Effect
Mamagna
Light Earth damage (all foes)

Inheritable Skill

Garu
Light Wind damage (1 foe)

Inheritable Skill

Fist of Fury
Light Fist damage (1 foe)
Drumroll Punch
Random damage (area)
DemiKids Light & DarkEdit
| Class | Element | Type | Level | HP | MP | Exp |
| --- | --- | --- | --- | --- | --- | --- |
| Elite | Earth | Fiend | 13 | 132 | 52 | 68 |

| ATK | DEF | MGC | RES | SPD | LCK |
| --- | --- | --- | --- | --- | --- |
| 14 | 12 | 10 | 13 | 8 | 9 |
List of Skills

Skill
Element
Cost
Effect
Petra
Earth
5 MP
Small dmg. 1 Foe
Ram
Earth
15 HP
Small dmg. 1 Foe
Powerdrain
Dark
5 MP
ATK Down. Foes
Heal All
Light
12 MP
Minor HP recovery. Party
Distract
Dark
6 MP
Tempt. 1 Foe
Petraburst
Earth
10 MP
Medium dmg. 1 Foe
Devil Children Fire/Ice BookEdit
| Class | Type | Race | Level | HP | MP | Exp |
| --- | --- | --- | --- | --- | --- | --- |
| Elite | Earth | Fiend | 13 | 132 | 52 | 68 |

| Attack | Guard | Magic | M Guard | Speed | Luck |
| --- | --- | --- | --- | --- | --- |
| 14 | 12 | 10 | 13 | 8 | 9 |
Devil Children Messiah RiserEdit
| Number | Element | Weakness | Type | Level | HP | MP |
| --- | --- | --- | --- | --- | --- | --- |
| 67 | Earth | Wind | - | 12 | 90 | 100 |
| ATK | MGC | DEF | RES | SPD | Quick | Call | Spell |
| --- | --- | --- | --- | --- | --- | --- | --- |
| 15 | 8 | 2 | 2 | 12 | 33 | 7 | Magna |