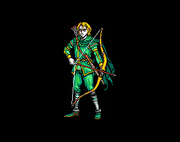 Leraje (レラジエ, Rerajie) is a demon in the series.
Leraje is the 14th demon listed in the Ars Goetia and a Great Maqruis of Hell that commands 30 legions of demons. He causes great battles and disputes and can cause arrow wounds to develop gangrene. He is sometimes considered to be the same demon as Satanachia, although the Grand Grimoire instead deems him to be a direct subordinate of Sargatanas. He is depicted as a handsome archer wearing green clothes and carrying a bow and arrows.
Appearances
Edit
Giten Megami Tensei: Tokyo MokushirokuEdit
One of the demons carrying body parts of Yuuka Tachibana, the hero's girlfriend, he is fought near Ichigaya Shelter.
Giten Megami Tensei: Tokyo MokushirokuEdit
| CP | Intuition | Will Power | Magic | Intelligence | Divine Protection |
| --- | --- | --- | --- | --- | --- |
| 40 | 14 | 16 | 29 | 26 | 13 |

| Strength | Stamina | Agility | Dexterity | Charm |
| --- | --- | --- | --- | --- |
| 29 | 25 | 17 | 18 | 15 |
List of Skills

Zanma
Decomposition Arrow
Demon Fire Arrow
Penetrating Arrow
Samidare Arrow
Dia