Ad blocker interference detected!
Wikia is a free-to-use site that makes money from advertising. We have a modified experience for viewers using ad blockers

Wikia is not accessible if you've made further modifications. Remove the custom ad blocker rule(s) and the page will load as expected.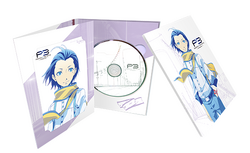 "Light in Starless Sky" is the theme song for Persona 3 The Movie #3: Falling Down. It is composed by Shoji Meguro and performed by Lotus Juice and Yumi Kawamura. It was included as part of the Theme Song CD that was available for purchase at the Persona Super Live 2015 concert on February 5, 2015 that also included remixes of "Unavoidable Battle" and "Living With Determination", as well as a karaoke version of "Light in Starless Sky".
We're walking through the darkest valley
Hater's loose far from finale
So uncanny that I got this crew man this movement
So exclusive
My matter so effusive
So damn loud pardon my music
I worked alone guess I wasn't used to
Doing a collabo in a lab whose amusing
It shone the light in my blindness
The guidance to my dynasty
But honestly
We constantly enjoyed our chemistry
Water settles in dry sand quick to become dirt by suction
Changes inevitable but it don't mean malfunction
I walk
I walk this dark valley
Cold wind blows out the light of joy
In starless sky
I rejoice our memories
Strength that stays in my heart
Elevated, what's deep down inside me
Celebrate it what we got us going for the moment
Demonstrate it, to these heads who came and violate it
About to battle fake ass shadows
We're ready for whatever follows
We leader you just swallow
We are full you just shallow
But we forgive we shall take you as a fellow member
I never liked to hate cuz emotions viral so contagious
Good god gracious, soul I spread is Mediarama
That's my basis
A series of spontaneous changes life sometimes instantaneous
Some stay fearless some got vicious I got more serious this time
Parting ways in a good term
Used to be a bit concerned
Haters' burning jealousies so damn dirty
Seen my old friends turn
Foes oh my goodness no I had faith in these dogs
Ended up drastically changing or returning
Back to weak foes
Though I knew for sure that this ain't the
Case we still cool
Our history's timeless
What we got here's never removed
I walk
I walk this dark valley
Cold wind blows out the light of joy
In starless sky
I rejoice our memories
Strength that stays in my heart
Road less destiny may separates us
However there are bonds
That remain tight forever
This friendship's gold I treasure in my heart
So even if you have to go
Won't be afraid to say goodbye no more