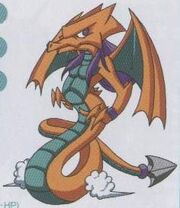 Lindwurm (リンドブルム, Rindoburumu) is a demon in the series.
The word for a wingless bipedal dragon that is venomous.
Appearances
Edit
DemiKids Light & DarkEdit
"An awesome flying dragon with the nose of a lion and the jaws of a crocodile."
—DemiKids Demonary
Lindwurm can perform the combo Wyrm Breath with Octorex or Firetung. Linwurm also has the power Escape, which comes in handy when escaping.
Devil Children White BookEdit
| Class | Element | Type | Exp | Level | HP | MP |
| --- | --- | --- | --- | --- | --- | --- |
| Common | Thunder | Dragon | 539 | 36 | 371 | 165 |
| ATK | DEF | MGC | RES | SPD | LCK |
| --- | --- | --- | --- | --- | --- |
| 35 | 30 | 28 | 34 | 33 | 30 |
DemiKids Light & DarkEdit
| Class | Element | Type | Exp | Level | HP | MP |
| --- | --- | --- | --- | --- | --- | --- |
| Common | Thunder | Dragon | 510 | 35 | 371 | 166 |

| ATK | DEF | MGC | RES | SPD | LCK |
| --- | --- | --- | --- | --- | --- |
| 34 | 30 | 27 | 32 | 34 | 26 |
List of Skills

Skill
Element
Cost
Effect
Shockburst
Thunder
10 MP
Medium dmg. 1 Foe
Hex Bind
Dark
35 MP
Hit +Paralyze. 1 Foe
Teleport
Light
10 MP
Teleport Party
Shockblast
Thunder
20 MP
Medium dmg. Foes
Silence
Dark
6 MP
Mute. 1 Foe
Healmax
Light
20 MP
Full HP recovery. 1 Ally
Devil Children Fire/Ice BookEdit
| Class | Element | Type | Exp | Level | HP | MP |
| --- | --- | --- | --- | --- | --- | --- |
| Common | Thunder | Dragon | 510 | 35 | 371 | 166 |

| ATK | DEF | MGC | RES | SPD | LCK |
| --- | --- | --- | --- | --- | --- |
| 34 | 30 | 27 | 32 | 34 | 26 |
Devil Children Messiah RiserEdit
| Number | Element | Weakness | Type | Level | HP | MP |
| --- | --- | --- | --- | --- | --- | --- |
| 28 | Thunder | Earth | Dragon | 16 | 240 | 55 |
| ATK | MGC | DEF | RES | SPD | Quick | Call | Spell |
| --- | --- | --- | --- | --- | --- | --- | --- |
| 22 | 7 | 2 | 2 | 12 | 40 | 12 | Mazio |