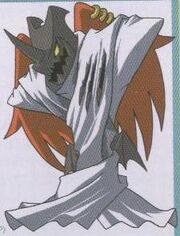 Lost (ロスト, Rosuto) is a demon in the series.
In Serer lore a human who does not live faithfully to the Serer doctrine are unable to find their way to the sacred place of the soul, Jaaniw. They will then be destined to wander as lost souls for the rest of eternity.
Appearances
Edit
Devil Children: White BookEdit
Lost can be found near South Lake.
Devil Children: White BookEdit
| Class | Element | Type | Exp | Level | HP | MP |
| --- | --- | --- | --- | --- | --- | --- |
| Common | Fire | Evil | 286 | 26 | 274 | 125 |
| ATK | DEF | MGC | RES | SPD | LCK |
| --- | --- | --- | --- | --- | --- |
| 24 | 24 | 21 | 22 | 20 | 21 |