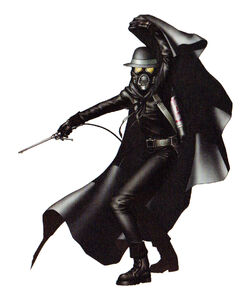 Mad Gasser (マッドガッサー, Maddogassā) is a demon appearing in the series.
Inspired by the legend of the Mad Gasser of Mattoon, an urban myth that supposedly terrorized the small city of Mattoon, Illinois by spraying victims with an unidentified gas.
Appearances
Edit
Shin Megami Tensei IVEdit
Mad Gasser can be found in Tsukiji Hongwanji during the entrance test presented to Flynn and his fellow Samurai. Flynn will need the Demolingual App in order to communicate with them, but attempting to do so during the trial will result in them blowing on the candle. Mad Gasser can teach Flynn the Shibaboo and Poison Breath skills through its Demon Whisper.
Shin Megami Tensei IV ApocalypseEdit
Mad Gasser can be found in Shibuya. He can teach the Bind Voice, Poison Breath and Pandemic Bomb through his Demon Whisper. Mad Gasser benefits greatly from learning ailment skills.
Devil Summoner: Soul HackersEdit
"

A mysterious figure that spreads an unknown poisonous gas around. He wears all black and is said to be a tall man. The gas he uses has a sweet smell but inhaling it will cause intense headaches and vomiting. He returns when people begin to forget his existence, though he is rarely sighted.

"
—Devil Summoner: Soul Hackers compendium
Shin Megami Tensei: Strange Journey ReduxEdit
Race

Alignment

Level

HP

MP

| | | |
| --- | --- | --- |
| Strength | 33 | |
| Magic | 28 | |
| Vitality | 27 | |
| Agility | 40 | |
| Luck | 38 | |

Foul
Dark-Chaos
52
418
225
| Attack Type | | | | | | | | | |
| --- | --- | --- | --- | --- | --- | --- | --- | --- | --- |
| Single Foe/1/Physical/None | Weak | Weak | Reflect | Reflect | Reflect | Reflect | - | - | - |
| Poison | Paralyze | Stone | Strain | Sleep | Charm | Mute | Fear | Bomb | Rage |
| --- | --- | --- | --- | --- | --- | --- | --- | --- | --- |
| - | - | - | Weak | Weak | Weak | Weak | Weak | - | - |
D-Source Skills
Tetraja
Void Nerve
Shin Megami Tensei IVEdit
Race

Level

HP

MP

| | | |
| --- | --- | --- |
| Strength | 46 | |
| Dexterity | 42 | |
| Magic | 42 | |
| Agility | 55 | |
| Luck | 46 | |

Foul
40
350
157
| Phys | Gun | Fire | Ice | Elec | Force | Light | Dark |
| --- | --- | --- | --- | --- | --- | --- | --- |
| - | - | - | - | - | - | Weak | Resist |
| | |
| --- | --- |
| Ailment Resistance | Resist:Poison/Panic/Sleep/Bind/Sick |
| | |
| --- | --- |
| Normal Attack | Phys x1, 1 enemy |
List of Skills

Skill
Cost
Effect
Level
Pandemic Bomb
11 MP
70% sick to all foes.
Innate
Shibaboo
5 MP
50% bind to one foe.
Innate
Poison Breath
11 MP
70% poison to all foes.
Innate
Hellish Mask
Auto
Resists all ailments.
41
Shin Megami Tensei IV ApocalypseEdit
Race

Level

HP

MP

| | | |
| --- | --- | --- |
| Strength | 39 | |
| Dexterity | 39 | |
| Magic | 33 | |
| Agility | 55 | |
| Luck | 49 | |

Foul
37
306
163
| Phys | Gun | Fire | Ice | Elec | Force | Light | Dark |
| --- | --- | --- | --- | --- | --- | --- | --- |
| - | - | - | - | - | - | Weak | Resist |
| | |
| --- | --- |
| Ailment Resistance | Resist:Poison/Panic/Sleep/Sick |
| | |
| --- | --- |
| Normal Attack | Phys x1, 1 enemy |
List of Skills

Skill
Cost
Effect
Level
Bind Voice
20 MP
45% bind to all foes.
Innate
Poison Breath
15 MP
70% poison to all foes.
Innate
Pandemic Bomb
15 MP
70% sick to all foes.
38
Hellish Mask
Auto
Resists all ailments.
39
Devil Summoner: Soul HackersEdit
| Race | Level | HP | MP | CP | MAG Summon |
| --- | --- | --- | --- | --- | --- |
| Foul | 25 | 228 | 65 | 8 | 597 |

| Strength | Intelligence | Magic | Endurance | Agility | Luck |
| --- | --- | --- | --- | --- | --- |
| 11 | 4 | 6 | 10 | 8 | 3 |
| Personality | Phys Attack | Phys Hit | Mgc Attack | Mgc Hit | Base Defense | Avoid |
| --- | --- | --- | --- | --- | --- | --- |
| Sly | 72 | 38 | 52 | 14 | 86 | 38 |
| Resist | Void | Absorb | Reflect | Weak |
| --- | --- | --- | --- | --- |
| - | - | - | Death | Expel |