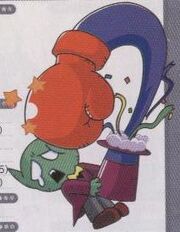 Mad Hatter (マッドハッター, Maddohattaa) is a demon in the series.
Based on the Mad Hatter, a character from Alice in Wonderland.
Appearances
Edit
DemiKids: Light & DarkEdit
"A humorous demon who hides an array of weapons in his mysterious magic hat."
—DemiKids Demonary
Known as Mad Hat, he has the special power Battle Rage, which makes him go berserk when fighting mean foes. A Mad Hat can be found in the Rainy Forest. After guessing which hand he is holding something(both are incorrect) he attacks with his demons. When the battle win he joins the party.
DemiKids: Light & DarkEdit
| Class | Element | Type | Exp | Level | HP | MP |
| --- | --- | --- | --- | --- | --- | --- |
| General | Earth | Fiend | 775 | 43 | 478 | 208 |

| ATK | DEF | MGC | RES | SPD | LCK |
| --- | --- | --- | --- | --- | --- |
| 43 | 40 | 40 | 38 | 33 | 40 |
List of Skills

Skill
Element
Cost
Effect
Dark Spear
Dark
5 HP
-30% HP. 1 Foe
Petrablast
Earth
20 MP
Medium dmg. Foes
Healmor All
Light
18 MP
Major HP recovery. Party
Hyper Drain
Dark
8 MP
Null +Stat. Foes
Desperation
Earth
5 HP
Critical. 1 Foe
Resurrect
Light
25 MP
Revive +Max HP. 1 Ally
Devil Children Fire/Ice BookEdit
| Class | Element | Type | Exp | Level | HP | MP |
| --- | --- | --- | --- | --- | --- | --- |
| General | Earth | Fiend | | 43 | 478 | 208 |

| ATK | DEF | MGC | RES | SPD | LCK |
| --- | --- | --- | --- | --- | --- |
| 43 | 40 | 40 | 38 | 33 | 40 |
List of Skills

Dark Spear
Mamagnus
Mediala
Dekaja
Hinshi no Ichigeki
Samarecarm