Ad blocker interference detected!
Wikia is a free-to-use site that makes money from advertising. We have a modified experience for viewers using ad blockers

Wikia is not accessible if you've made further modifications. Remove the custom ad blocker rule(s) and the page will load as expected.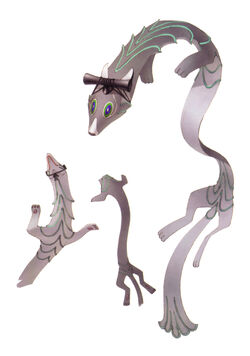 Makami (マカミ) is a demon in the series.
Appearances
Edit
Shin Megami Tensei III: NocturneEdit
"

A divine beast in Japanese mythology. They are often used to ward of evil, especially thefts and fire. But, there is also a belief that it eats people. Wolves can become Makami.

"
—Shin Megami Tensei III: Nocturne Compendium
Raising Inugami's level will turn it into Makami.
Shin Megami Tensei IMAGINEEdit
Makami can be encountered on all levels of Nakano Stone Site and can be contracted within the bronze and silver instances.
Shin Megami Tensei: Strange JourneyEdit
"

A wolf god of Japanese folklore. It is often drawn on prayer boards to prevent fires and thefts. At the same time, however it was feared as a human-eater.

"
—Shin Megami Tensei: Strange Journey Compendium
Shin Megami Tensei IV ApocalypseEdit
Makami can teach Nanashi the Diarama, Recarm and Posumudi skills through its Demon Whisper. It benefits from learning healing skills.
Devil Summoner 2: Raidou Kuzunoha vs. King AbaddonEdit
"A rural Japanese wolf god, said to protect one from fires. In exchange, it steals crops.
It's possible to gain its protection by leaving talismans bearing its image on doorways and grain fields."
—Devil Summoner 2: Raidou Kuzunoha vs. King Abaddon Devil Chart
Makami is involved in a case file in which someone felt its stare, and asked Raidou to investigate. It apparently was forced into the city due to its mountain home being tampered with by humans.
Persona 4 the AnimationEdit
Makami first appeared in Episode 12 as the first new Personas used to counter Shadow Mitsuo. He was used to block the Garula attack that was supposed to be used to hit Izanagi and retaliated with an Agilao. In addition, Makami is the Persona representing Yu's bond with Naoki Konishi.
In the True Ending special, Makami appears to defend Yu from Margaret's Loki, attacking with Agilao, and bringing a message of support for Yu from Naoki.
Shin Megami Tensei III: NocturneEdit
Race

Level

HP

MP

| | | |
| --- | --- | --- |
| Strength | 11 | |
| Magic | 14 | |
| Vitality | 9 | |
| Agility | 7 | |
| Luck | 11 | |

Avatar
22
?
?
| Reflects | Absorbs | Void | Resists | Weak |
| --- | --- | --- | --- | --- |
| Expel | - | Fire | - | - |
List of Skills

Skill
Cost
Effect
Level
Void Mind
Passive
Imparts immunity to mind attacks. Overrides resistance and weakness.
25
Petradi
5 MP
Removes stone from one ally.
26
Diarama
7 MP
Greatly restores one ally's HP.
27
Recarm
20 MP
Revives one dead ally with a small amount of HP.
28
Shin Megami Tensei: Strange JourneyEdit
Race

Alignment

Level

HP

MP

| | | |
| --- | --- | --- |
| Strength | 29 | |
| Magic | 19 | |
| Vitality | 20 | |
| Agility | 23 | |
| Luck | 20 | |

Avatar
Light-Neutral
32
283
150
| Attack Type | | | | | | | | | |
| --- | --- | --- | --- | --- | --- | --- | --- | --- | --- |
| Single foe/1/Physical/None | Strong | - | Null | - | - | - | Null | - | - |
| Poison | Paralyze | Stone | Strain | Sleep | Charm | Mute | Fear | Bomb | Rage |
| --- | --- | --- | --- | --- | --- | --- | --- | --- | --- |
| 100% | 100% | 100% | 100% | 100% | 100% | 100% | 100% | 100% | 100% |
D-Source Skills
Tetrakarn
Sukunda
Password
5PHzffq$b9d5bQWw
b6wKovUK8fN9L0Gf
Shin Megami Tensei IVEdit
Race

Level

HP

MP

| | | |
| --- | --- | --- |
| Strength | 38 | |
| Dexterity | 35 | |
| Magic | 35 | |
| Agility | 45 | |
| Luck | 38 | |

Avatar
32
294
131
| Phys | Gun | Fire | Ice | Elec | Force | Light | Dark |
| --- | --- | --- | --- | --- | --- | --- | --- |
| - | - | - | - | - | - | Null | - |
| | |
| --- | --- |
| Ailment Resistance | Null: Panic/Sleep |
| | |
| --- | --- |
| Normal Attack | Physical, one hit, one enemy |
List of Skills

Skill
Cost
Effect
Level
Tetrakarn
50 MP
Bestows physical/gun-repelling shields for one turn to all allies.
Innate
Null Mind
Auto
Immunity against sleep and panic.
Innate
Posumudi
5 MP
Removes poison and sick from one ally.
33
Workaholic
Auto
Greatly increases experience points received after battles.
35
Shin Megami Tensei IV ApocalypseEdit
Race

Level

HP

MP

| | | |
| --- | --- | --- |
| Strength | 36 | |
| Dexterity | 41 | |
| Magic | 35 | |
| Agility | 50 | |
| Luck | 45 | |

Avatar
33
320
169
| Phys | Gun | Fire | Ice | Elec | Force | Light | Dark |
| --- | --- | --- | --- | --- | --- | --- | --- |
| - | - | - | - | - | - | Resist | Weak |
| | |
| --- | --- |
| Normal Attack | Phys x1, 1 enemy |
List of Skills

Skill
Cost
Effect
Level
Diarama
16 MP
Restores medium amount of HP to one ally.
Innate
Recarm
20 MP
Revives one dead ally with little HP restored.
Innate
Heal Pleroma
Auto
Boosts healing amount by 25%.
Innate
Posumudi
6 MP
Removes poison and sick from one ally.
34
Workaholic
Auto
Greatly increases experience points received after battles.
35
Raidou Kuzunoha vs. King AbaddonEdit
| Order | Level | HP | St | Ma | Vi | Lu | Conversation | Investigation |
| --- | --- | --- | --- | --- | --- | --- | --- | --- |
| Volt | 14 | 259 | 6 | 12 | 10 | 5 | Debate | Light Up/Inspect |
| Reflects | Absorbs | Block | Resists | Weak | Frail |
| --- | --- | --- | --- | --- | --- |
| - | - | Fire/Elec | - | Gun | Force |
List of Skills

Skill
Cost
Effect
Level
Mazio
12 MAG
Medium Elec dmg to an area. Stun: Med
Innate
Elec Bullet
30 MAG
Adds Elec dmg to gun attacks. Duration: Short
15
Recarm
26 MAG
Revives target with some HP. 1 Ally
16
Orienteering
Passive
Possessor won't get lost
Max Loyalty
| Order | Level | HP | St | Ma | Vi | Lu | Item drop |
| --- | --- | --- | --- | --- | --- | --- | --- |
| Volt | 20 | 442 | 8 | 17 | 10 | 4 | - |
| Reflects | Absorbs | Block | Resists | Weak | Frail |
| --- | --- | --- | --- | --- | --- |
| - | - | Fire/Elec | - | Gun | Force |
List of Skills

Skill
Effect
Mazio
Medium Elec dmg to an area. Stun: Med
Persona 4Edit
| Inherit | Reflects | Absorbs | Block | Resists | Weak |
| --- | --- | --- | --- | --- | --- |
| Fire | - | - | Fire, Darkness | Wind | Ice, Light |
List of Skills

Skill
Cost
Effect
Level
Agilao
8 SP
Deals medium Fire damage to 1 foe.
Innate
Sukunda
12 SP
Decreases 1 foe's Hit/Evasion rate for 3 turns.
Innate
Auto-Sukukaja
Passive
Automatic Sukukaja at the start of battle.
29
Diarama
6 SP
Moderately restores 1 ally's HP.
30
Resist Mute
Passive
Reduces chance of being Silenced.
31
Dodge Physical
Passive
Doubles evasion rate against Phys attacks.
32
Resist Ice
Passive
Reduces damage from Ice attacks.
33