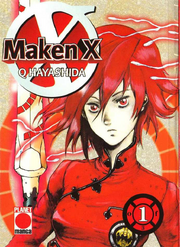 Maken X Another (魔剣X ANOTHER) is a manga based on Maken X created by Q Hayashida, who is better known for her work on Dorohedoro.
Maken X Another is a manga adaptation of the Maken X game originally serialized in Monthly Magazine Z. It touched further on the human relationships within the game and expanded on the concept of brain jacking. It was compiled into three tankoban volumes. In December 2008, it was edited and re-released by Enterbrain as a special edition in the two volume compilation Maken X Another Jack.
Ad blocker interference detected!
Wikia is a free-to-use site that makes money from advertising. We have a modified experience for viewers using ad blockers

Wikia is not accessible if you've made further modifications. Remove the custom ad blocker rule(s) and the page will load as expected.