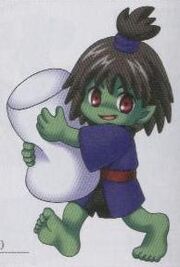 Makura-gaeshi (まくらがえし) is a demon in the series.
Makuta-gaeshi (lit. "Pillow-Mover") is a demon in Japanese mythology. It is known to take the pillow out from under your head as you sleep and places it by your feet, a seemingly useless and harmless prank.
Appearances
Edit
Devil Children Red/Black BookEdit
Makura-gaeshi can be obtained by rank fusing Counting Sheep six times. Rank fusing him six times can have Makura-gaeshi become a Baku.
DemiKids Light/Dark VersionEdit
Known as Pilox.
Devil Children: Black/Red BookEdit
| Class | Element | Type | Exp | Level | HP | MP |
| --- | --- | --- | --- | --- | --- | --- |
| Common | Earth | Ghost | 71 | 13 | 137 | 54 |
| ATK | DEF | MGC | RES | SPD | LCK |
| --- | --- | --- | --- | --- | --- |
| 13 | 12 | 10 | 13 | 12 | 10 |
Devil Children Black Book/Red Book (PS)Edit
| Class | Element | Type | Exp | Level | HP | MP |
| --- | --- | --- | --- | --- | --- | --- |
| Common | Earth | Ghost | 71 | 13 | 137 | 54 |
| ATK | DEF | MGC | RES | SPD | LCK |
| --- | --- | --- | --- | --- | --- |
| 13 | 12 | 10 | 13 | 12 | 10 |
Devil Children: White BookEdit
| Class | Element | Type | Exp | Level | HP | MP |
| --- | --- | --- | --- | --- | --- | --- |
| Common | Earth | Ghost | 71 | 13 | 137 | 54 |
| ATK | DEF | MGC | RES | SPD | LCK |
| --- | --- | --- | --- | --- | --- |
| 13 | 12 | 10 | 13 | 12 | 10 |
DemiKids: Light/Dark VersionEdit
| Class | Element | Type | Exp | Level | HP | MP |
| --- | --- | --- | --- | --- | --- | --- |
| Common | Earth | Ghost | 71 | 13 | 137 | 54 |

| ATK | DEF | MGC | RES | SPD | LCK |
| --- | --- | --- | --- | --- | --- |
| 13 | 12 | 10 | 13 | 12 | 10 |
List of Skills

Skill
Element
Cost
Effect
Petra
Earth
5 MP
Small dmg. 1 Foe
Ram
Earth
15 HP
Small dmg. 1 Foe
Slumber
Earth
6 MP
Sleep. 1 Foe
Purge
Light
8 MP
Null -Stat. Party
Cure
Light
6 MP
Cure. 1 Ally
Petraburst
Earth
10 MP
Medium dmg. 1 Foe
Devil Children Fire/Ice BookEdit
| Class | Element | Type | Exp | Level | HP | MP |
| --- | --- | --- | --- | --- | --- | --- |
| Common | Earth | Ghost | 71 | 13 | 137 | 54 |

| ATK | DEF | MGC | RES | SPD | LCK |
| --- | --- | --- | --- | --- | --- |
| 13 | 12 | 10 | 13 | 12 | 10 |