Ad blocker interference detected!
Wikia is a free-to-use site that makes money from advertising. We have a modified experience for viewers using ad blockers

Wikia is not accessible if you've made further modifications. Remove the custom ad blocker rule(s) and the page will load as expected.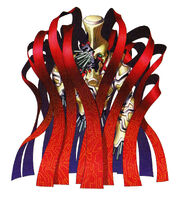 "

WHY!? WHY DO YOU DRIVE MANITOU MAD!? WHY DO YOU TRY TO DESTROY ME!?

"
—Malsum, Soul Hackers
Malsum (マルスム, marusumu) is a demon in the series.
Malsumis was a highly malevolent god or spirit in the mythology of the Abenaki, an Algonquian people of northeastern North America. After the creator god Tabaldak created humans, the dust from the creation of man created Glubsak and his twin brother, Malsumis. Talbadak gave Glubsak the power to create a good world or to do good, while Malsumis used his power for evil, like putting thorns on plants or giving insects their sting. He still pursues evil to this day.
Appearances
Edit
Devil Summoner: Soul HackersEdit
Malsum is a fragment of Manitou that has possessed the Algon Main Building servers. If the player chose to cooperate with Finnegan, he reveals that Malsum sealed away the magic of his demons as he dies. He attacks the protagonist as Nemissa is considered a threat.
Devil Summoner: Soul HackersEdit
| Race | Level | HP | MP | CP | MAG Summon |
| --- | --- | --- | --- | --- | --- |
| Cyber | 60 | 9292 | 640 | | |

| Strength | Intelligence | Magic | Endurance | Agility | Luck |
| --- | --- | --- | --- | --- | --- |
| 21 | 13 | 9 | 19 | 15 | 12 |
| Personality | Phys Attack | Phys Hit | Mgc Attack | Mgc Hit | Base Defense | Avoid |
| --- | --- | --- | --- | --- | --- | --- |
| - | 162 | 97 | 89 | 34 | 174 | 96 |
| Resist | Void | Absorb | Reflect | Weak |
| --- | --- | --- | --- | --- |
| - | Expel, Death, Nerve, Curse, Gun | - | Mind | - |
List of Skills
| Silent Whisper | Alga Zona | Atom Slicer |
| --- | --- | --- |
| Bite the Dust | Pyroclastic Tempest | - |
| --- | --- | --- |