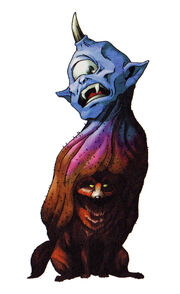 Mamedanuki (マメダヌキ?) is a demon in the series.
in Japanese mythology, a tanuki or raccoon dog is able to transform their scrotum into various useful objects.
Appearances
Edit
Shin Megami Tensei: Strange JourneyEdit
"

A male raccoon that specializes in enchanting people. It has massive genitals, about 12 feet squared, which it uses to fool people. It sometimes covers itself in them and transforms, while other times using them as an umbrella. In the sake breweries of Nada, Japan, they say you can't make good liquor if there's no Mamedanuki around.

"
—Shin Megami Tensei: Strange Journey Compendium
Mamedanuki is a common Enemy Scan demon in Sector Antlia and Sector Bootes. Halphas offers to conduct a Mamedanuki hunt across Mitra's Tower in an EX Mission. While not a particular threat by itself, as an enemy it has access to the Macca Beam skill, which permanently removes a sizeable portion of Macca from the protagonist's reserves.
Shin Megami Tensei IV ApocalypseEdit
Three Mamedanuki skins are required for the Challeng Quest I'll Make You Full, where the restaurant Akujiki plans on making inarizushi from them for the resident children. The Mamedanukis are found in Kinshi Park.
Shin Megami Tensei: Strange JourneyEdit
Race

Alignment

Level

HP

MP

| | | |
| --- | --- | --- |
| Strength | 8 | |
| Magic | 8 | |
| Vitality | 12 | |
| Agility | 11 | |
| Luck | 15 | |

UMA
Neutral-Neutral
13
139
68
| Attack Type | | | | | | | | | |
| --- | --- | --- | --- | --- | --- | --- | --- | --- | --- |
| Single foe/1/Physical/None | - | - | Strong | Strong | Strong | Strong | - | - | - |
| Poison | Paralyze | Stone | Strain | Sleep | Charm | Mute | Fear | Bomb | Rage |
| --- | --- | --- | --- | --- | --- | --- | --- | --- | --- |
| - | - | - | - | - | - | - | - | - | - |
D-Source Skills
Patra
Sleepwalker
Item Drops
Dis-Poison
Patra Stone
Dis-Strain
Password
bKVsONUnSotdftT+
V4TtN8TuztTs8tTk
Shin Megami Tensei IVEdit
Race

Level

HP

MP

| | | |
| --- | --- | --- |
| Strength | 21 | |
| Dexterity | 20 | |
| Magic | 20 | |
| Agility | 25 | |
| Luck | 21 | |

Food
15
175
77
| Phys | Gun | Fire | Ice | Elec | Force | Light | Dark |
| --- | --- | --- | --- | --- | --- | --- | --- |
| - | - | Resist | Resist | - | - | - | - |
| | |
| --- | --- |
| Ailment Resistance | Resist: Panic |
| | |
| --- | --- |
| Normal Attack | Phys x1 hit, 1 enemy |
List of Skills

Skill
Cost
Effect
Level
Pulinpa
5 MP
90% panic to one foe.
Innate
Madness Needle
11 MP
Weak gun damage and 70% panic to one foe.
Innate
Hard Worker
Auto
Increases experience points received after battles.
17
Shin Megami Tensei IV ApocalypseEdit
Race

Level

HP

MP

| | | |
| --- | --- | --- |
| Strength | 14 | |
| Dexterity | 14 | |
| Magic | 12 | |
| Agility | 19 | |
| Luck | 17 | |

Food
9
120
65
| Phys | Gun | Fire | Ice | Elec | Force | Light | Dark |
| --- | --- | --- | --- | --- | --- | --- | --- |
| - | Weak | Resist | Resist | - | - | - | - |
Ailment Resistance
Resist: Panic,

Weak

: Bind
| | |
| --- | --- |
| Normal Attack | Phys x1, 1 enemy |
List of Skills

Skill
Cost
Effect
Level
Pulinpa
5 MP
90% panic to one foe.
Innate
Lunge
6 MP
Weak physical damage to one foe. High critical but low accuracy.
Innate
Frenzied Chomp
6 MP
Weak physical damage to one foe. Inflicts Poison/Bind/Charm.
11
Shin Megami Tensei: Devil SummonerEdit
| Race | Level | HP | MP | St | In | Ma | Ag | Lu |
| --- | --- | --- | --- | --- | --- | --- | --- | --- |
| UMA | 20 | 88 | 62 | 4 | 4 | 10 | 10 | 4 |

| CP | NOA | Personality | P.ATK | P.HIT | B.DEF | AVD | M.ATK | M.DEF |
| --- | --- | --- | --- | --- | --- | --- | --- | --- |
| 20 | 1 | Insightful | 48 | 42 | 58 | 42 | 22 | 20 |
Devil Children White BookEdit
| Class | Element | Type | Level | HP | MP | Exp |
| --- | --- | --- | --- | --- | --- | --- |
| Common | Earth | Ghost | 7 | 88 | 39 | 26 |
| ATK | DEF | MGC | RES | SPD | LCK |
| --- | --- | --- | --- | --- | --- |
| 8 | 6 | 7 | 9 | 8 | 5 |