Ad blocker interference detected!
Wikia is a free-to-use site that makes money from advertising. We have a modified experience for viewers using ad blockers

Wikia is not accessible if you've made further modifications. Remove the custom ad blocker rule(s) and the page will load as expected.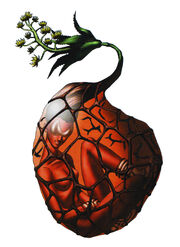 Mayahuel (マヤウェル, mayaueru) is a recurring demon in the series.
Mayahuel was part of a complex of interrelated maternal and fertility goddesses in Aztec mythology. She is connected with notions of reproducing and nourishment. After her death at the hand of her grandmother Tzitzimitl, Quetzalcoatl buried her remains and from which the maguey plant (Agave americana) was sprouted. Quetzalcoatl used the sap from the plant to make Pulque, a low alcohol beverage to relieve his sadness over his deceased loved one.
Appearances
Edit
Devil Summoner: Soul HackersEdit
"An Aztec goddess said to have brought the maguey plant to this world. As granddaughter of a Tzitzimitl, she descended to Earth alongside Quetzalcoatl, disguised as the branches of a forked tree. Her upset grandmother found her, tore her to pieces, and ate her, leaving Quetzalcoatl intact. Later, Quetzalcoatl buried Mayahuel's bones, from which the first maguey plant sprouted."
—Soul Hackers 3DS Compendium
Shin Megami Tensei: Strange JourneyEdit
"

An Aztec goddess said to have brought the maguey plant to this world. As granddaughter of a Tzitzimitl, she descended to Earth alongside Quetzalcoatl, disguised as the branches of a forked tree. Her upset grandmother found her, tore her to pieces, and ate her, leaving Quetzalcoatl intact. Later, Quetzalcoatl buried Mayahuel's bones, from which the first maguey plant sprouted.

"
—Strange Journey Compendium
Shin Megami Tensei: Strange JourneyEdit
Race

Alignment

Level

HP

MP

| | | |
| --- | --- | --- |
| Strength | 22 | |
| Magic | 28 | |
| Vitality | 20 | |
| Agility | 26 | |
| Luck | 24 | |

Tree
Light-Law
35
301
179
| Attack Type | | | | | | | | | |
| --- | --- | --- | --- | --- | --- | --- | --- | --- | --- |
| Single foe/1/Physical/None | Weak | Strong | Weak | - | - | - | - | - | - |
| Poison | Paralyze | Stone | Strain | Sleep | Charm | Mute | Fear | Bomb | Rage |
| --- | --- | --- | --- | --- | --- | --- | --- | --- | --- |
| 100% | 100% | 100% | 100% | 100% | 100% | 100% | 100% | 100% | 100% |
D-Source Skills
Recarm
Mana Aid
Mana Bonus
Password
-HYf#wUfgPs#9vce

ih7%gQkfg7hf9wdR
Shin Megami Tensei IVEdit
Race

Level

HP

MP

| | | |
| --- | --- | --- |
| Strength | 36 | |
| Dexterity | 40 | |
| Magic | 51 | |
| Agility | 34 | |
| Luck | 47 | |

Tree
35
212
205
| Phys | Gun | Fire | Ice | Elec | Force | Light | Dark |
| --- | --- | --- | --- | --- | --- | --- | --- |
| - | Null | Weak | - | - | - | - | - |
| | |
| --- | --- |
| Normal Attack | Physical, one hit, one enemy |
List of Skills

Skill
Cost
Effect
Level
Media
12 MP
Restores small amount of HP to all allies.
Innate
Me Patra
15 MP
Removes sleep, panic and bind from all allies.
Innate
Heal Pleroma
Auto
Boosts healing amount by 25%.
36
High Heal Pleroma
Auto
Boosts healing amount by 50%.
37
Devil Summoner: Soul HackersEdit
| Race | Level | HP | MP | St | In | Ma | En | Ag | Lu |
| --- | --- | --- | --- | --- | --- | --- | --- | --- | --- |
| Tree | 40 | 314 | 132 | 8 | 9 | 14 | 8 | 7 | 15 |

| CP | MAG Summon | Personality | P.ATK | P.HIT | B.DEF | AVD | M.ATK | M.HIT |
| --- | --- | --- | --- | --- | --- | --- | --- | --- |
| 4 | 315 | Kind | 96 | 69 | 112 | 67 | 120 | 32 |
| Reflects | Absorbs | Void | Resists | Weak |
| --- | --- | --- | --- | --- |
| - | - | Expel, Death | - | Fire |