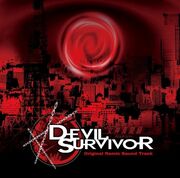 Megami Ibunroku Devil Survivor Original Remix Soundtrack (女神異聞録デビルサバイバー オリジナルリミックスサウンドトラック) is the official soundtrack for the game Shin Megami Tensei: Devil Survivor. The album, catalog number LACA5870, is published by Lantis. It consists of 21 tracks composed by Takami Asano recorded into one CD.
Release Date
Edit
Japan: January 21, 2009 - Price: 3,000 Yen
Track List
Edit
Reset Vocal
Demon of darkness
Sunset
Action
Disquiet
Pinch
Aggressive tune
Battle beat
Cool jam
Pinch battle
Demoniac fusion
Rival battle
Deep night
Coldheartedness
Last decision
Accident
Sad seeing
Garuda
Deep darkness
Eternal life
Reset inst
Ad blocker interference detected!
Wikia is a free-to-use site that makes money from advertising. We have a modified experience for viewers using ad blockers

Wikia is not accessible if you've made further modifications. Remove the custom ad blocker rule(s) and the page will load as expected.