Ad blocker interference detected!
Wikia is a free-to-use site that makes money from advertising. We have a modified experience for viewers using ad blockers

Wikia is not accessible if you've made further modifications. Remove the custom ad blocker rule(s) and the page will load as expected.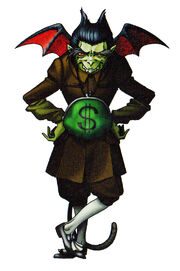 Melchom (メルコム) is a demon in the series.
Melchom is mentioned as a demon in the Dictionnaire Infernal. Melchom was formerly held as a major deity by the Ammonites (a people who occupied an area of the country known today as Jordan) until he and his people were chased out of the area by King David and the Israelites. After being dethroned he was regarded as a lesser demon, taking up the office of the paymaster to the servants of hell. He possibly holds some connection to Moloch.
Appearances
Edit
Shin Megami Tensei: Strange JourneyEdit
"

The paymaster of Hell. He is often depicted with a wallet. It is not known exactly what his duties are as the comptroller of the chamberlains, but it is certain that he is the one handing out the paychecks to the public workers of Hell.

"
—Strange Journey Compendium
Melchom appears as a recruitable enemy in the basements of Sector Antlia. A lone Melchom, stationed at Sector Bootes will issue several EX Missions, requesting MP-restoring items and paying top Macca for them. Once his final request has been granted, he will bestow the Protagonist with a Melchom Ring for his services.
His personality archetype is that of the classy gentleman.
Shin Megami Tensei: Strange JourneyEdit
| Attack Type | | | | | | | | | |
| --- | --- | --- | --- | --- | --- | --- | --- | --- | --- |
| Single foe/1-2/Physical/None | - | - | Reflect | - | Weak | - | - | - | - |
| Poison | Paralyze | Stone | Strain | Sleep | Charm | Mute | Fear | Bomb | Rage |
| --- | --- | --- | --- | --- | --- | --- | --- | --- | --- |
| 100% | 100% | 100% | 100% | 100% | 100% | 100% | 100% | 100% | 100% |
D-Source Skills
Resist Fire
-
-
Item Drops
Fallen Purse
Life Stone
Chakra Drop
Password
3$qA4QqjzG5D4GqD

3GoEVGsi4HKD3$rD
Shin Megami Tensei IVEdit
| Race | Level | HP | MP | ST | DX | MA | AG | LU |
| --- | --- | --- | --- | --- | --- | --- | --- | --- |
| Fallen | 5 | 71 | 67 | 10 | 11 | 13 | 10 | 13 |
| Phys | Gun | Fire | Ice | Elec | Force | Light | Dark |
| --- | --- | --- | --- | --- | --- | --- | --- |
| - | - | Repel | Weak | - | Weak | - | - |
Shin Megami Tensei IV ApocalypseEdit
Race

Level

HP

MP

| | | |
| --- | --- | --- |
| Strength | 18 | |
| Dexterity | 18 | |
| Magic | 15 | |
| Agility | 24 | |
| Luck | 22 | |

Fallen
13
147
80
| Phys | Gun | Fire | Ice | Elec | Force | Light | Dark |
| --- | --- | --- | --- | --- | --- | --- | --- |
| - | - | Resist | Weak | - | Weak | Weak | Resist |
Ailment Resistance

Weak

: Bind
| | |
| --- | --- |
| Normal Attack | Phys x1, 1 enemy |
Skill Affinities

Dark

+2

· Fire

+1

· Healing

+1

· Ailment

-1

· Ice

-3

· Force

-3
List of Skills

Skill
Cost
Effect
Level
Agi
5 MP
Weak fire damage to one foe.
Innate
Dia
8 MP
Restores small amount of HP to one ally.
Innate
Maragi
12 MP
Weak fire damage to all foes.
14
Tarukaja
20 MP
Buffs party's physical attack power by 1 level.
15
Shin Megami Tensei: Devil SummonerEdit
| Strength | Intelligence | Magic | Endurance | Agility | Luck |
| --- | --- | --- | --- | --- | --- |
| 7 | 8 | 6 | 4 | 5 | 4 |
| Personality | Phys Attack | Phys Hit | Base Defense | Avoid | Mgc Attack | Mgc Defense |
| --- | --- | --- | --- | --- | --- | --- |
| Insightful | 48 | 32 | 42 | 33 | 16 | 19 |