Ad blocker interference detected!
Wikia is a free-to-use site that makes money from advertising. We have a modified experience for viewers using ad blockers

Wikia is not accessible if you've made further modifications. Remove the custom ad blocker rule(s) and the page will load as expected.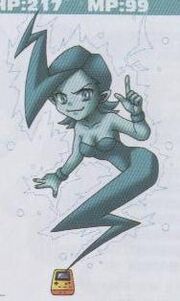 Melissa (メリッサ, Merissa) is a demon in the series.
Based on the Melissa computer virus, a mass-mailing virus released in 1999 by David L. Smith. During the time of its release, it was one of the most rapidly spreading computer viruses in the wild, affecting over 20% of all computer systems worldwide. Despite having no damaging payload, it managed to severely slow down systems of even the biggest companies such as Microsoft's mailing servers. It is sometimes called the Simpsons or the Kwyjibo virus due to a text message on the virus' code being a reference to the TV show "The Simpsons".
Appearances
Edit
Devil Children: Black/Red BookEdit
| Class | Element | Type | Exp | Level | HP | MP |
| --- | --- | --- | --- | --- | --- | --- |
| Elite | Thunder | Ghost | 184 | 21 | 217 | 99 |
| ATK | DEF | MGC | RES | SPD | LCK |
| --- | --- | --- | --- | --- | --- |
| 18 | 17 | 20 | 16 | 17 | 15 |
Devil Children Black Book/Red Book (PS)Edit
| Class | Element | Type | Exp | Level | HP | MP |
| --- | --- | --- | --- | --- | --- | --- |
| Elite | Thunder | Ghost | 184 | 21 | 217 | 99 |
| ATK | DEF | MGC | RES | SPD | LCK |
| --- | --- | --- | --- | --- | --- |
| 18 | 17 | 20 | 16 | 17 | 15 |
Devil Children: White BookEdit
| Class | Element | Type | Exp | Level | HP | MP |
| --- | --- | --- | --- | --- | --- | --- |
| Elite | Thunder | Ghost | 184 | 21 | 217 | 99 |
| ATK | DEF | MGC | RES | SPD | LCK |
| --- | --- | --- | --- | --- | --- |
| 18 | 17 | 20 | 16 | 17 | 15 |