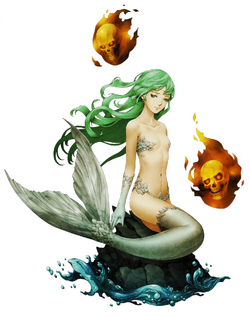 Mermaid (マーメイド, Māmeido)? is a demon in the series.
A mythical half-human sea creature with the upper half being that of a woman and the lower half is a tail of a fish.
Appearances
Edit
Shin Megami Tensei IV ApocalypseEdit
Kanda-no-yashiro
. She can teach the Bufula, Lullaby, Mazan, Rakukaja and Media skills through her Demon Whisper. Mermaid benefits from learning Ice, Force, ailment and healing skills.
DemiKids Light/Dark VersionEdit
Light Version
after beating the third of Wartak's five quizzes.
Shin Megami Tensei IV ApocalypseEdit
DemiKids Light/Dark VersionEdit
| Class | Element | Type | Level | HP | MP | Exp |
| --- | --- | --- | --- | --- | --- | --- |
| Elite | Water | Fiend | 26 | 274 | 125 | 286 |

| ATK | DEF | MGC | RES | SPD | LCK |
| --- | --- | --- | --- | --- | --- |
| 24 | 24 | 21 | 22 | 20 | 21 |
List of Skills

Skill
Element
Cost
Effect
Chaos Foam
Water
25 HP
Medium dmg +Confuse. 2 Foes
Spellblock
Light
12 MP
Spell Reflect. Self
Defboost
Light
6 MP
DEF Up. Party
Tidal Wave
Water
25 HP
Small dmg. Foes
Aquablast
Water
20 MP
Medium dmg. Foes
Revive
Light
18 MP
Revive. 1 Ally
Devil Children Fire/Ice BookEdit
| Class | Type | Race | Level | HP | MP | Exp |
| --- | --- | --- | --- | --- | --- | --- |
| Elite | Water | Fiend | 26 | 274 | 125 | 286 |

| Attack | Guard | Magic | M Guard | Speed | Luck |
| --- | --- | --- | --- | --- | --- |
| 24 | 24 | 21 | 22 | 20 | 21 |
List of Skills

Rainbow Bubbles
Makarakarn
Rakukaja
Tidal Wave
Malaques
Recarm