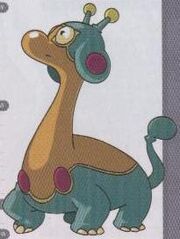 Mokele Mbembe (モケレ ムベンベ, Mokere Mubenbe)? is a demon in the series.
A legendary cryptid from the Congo River basin, it is said to be a species of surviving sauropods.
Appearances
Edit
DemiKids Light/Dark VersionEdit
"Nearly the size of an elephant, this legendary beast is said to control thunderstorms."
Known as Mokele, he has the power Electro, which stores electric power which sometimes shocks enemies.
DemiKids Light/Dark VersionEdit
| Class | Element | Type | Level | HP | MP | Exp |
| --- | --- | --- | --- | --- | --- | --- |
| Elite | Thunder | Alternate | 9 | 105 | 51 | 39 |

| ATK | DEF | MGC | RES | SPD | LCK |
| --- | --- | --- | --- | --- | --- |
| 12 | 10 | 8 | 8 | 9 | 12 |
List of Skills

Skill
Element
Cost
Effect
Shock
Thunder
5 MP
Small dmg. 1 Foe
Ram
Earth
15 HP
Small dmg. 1 Foe
Stun Shot
Thunder
12 HP
Small dmg +Shock. 1 Foe
Repel
Light
4 MP
Encounter Down. Party
Hit Expose
Dark
15 MP
Hit +DEF Down. 1 Foe
Shockdeus
Thunder
8 MP
Small dmg. 2 Foes
Devil Children Fire/Ice BookEdit
| Class | Type | Race | Level | HP | MP | Exp |
| --- | --- | --- | --- | --- | --- | --- |
| Elite | Thunder | Alternate | 9 | 105 | 51 | 39 |

| Attack | Guard | Magic | M Guard | Speed | Luck |
| --- | --- | --- | --- | --- | --- |
| 12 | 10 | 8 | 8 | 9 | 12 |
Devil Children Messiah RiserEdit
| Number | Element | Weakness | Type | Level | HP | MP |
| --- | --- | --- | --- | --- | --- | --- |
| 74 | Thunder | Earth | - | 9 | 80 | 85 |
| ATK | MGC | DEF | RES | SPD | Quick | Call | Spell |
| --- | --- | --- | --- | --- | --- | --- | --- |
| 9 | 7 | 4 | 4 | 15 | 26 | 5 | Zio |